A young priest with whom I was once a seminarian is now on Facebook like me. About a year ago, he posted the account of how he asked an old priest if young priests would save the Church. The old priest said "No, Jesus will save His Church," or something like that. Of course, this post had a ton of "likes." For one, it seemed so humble for a young priest to admit that we young priests would not "save" the Church. Secondly, it tapped our modern Catholic desire to prove to Protestants that we only look to for Jesus for salvation.
Both are true, and I have no problem with either motivating factor for a lot of "likes" for that. But it diverts readers from the fact that God always sends real saints in the flesh like St. Catherine of Siena to fix real crises in the Church. When we all sit back and say "Don't worry, Jesus is going to take care of it" (as everyone always tells me), well, that sounds very trusting and even saintly, but it is not Catholic. It misses the teaching of the Mystical Body of Christ, namely, that from the very beginnings of Christianity, Christ came first in the head (the Incarnation as Jesus Christ) and then in the body (His saints and martyrs.) See here what the Holy Spirit teaches about His own Catholic Church as the Mystical Body of Christ:
"And [Christ] is the head of the body, the Church. He is the beginning, the firstborn from the dead, that in everything He might be preeminent. For in Him all the fullness of God was pleased to dwell, and through him to reconcile to himself all things, whether on earth or in heaven, making peace by the blood of his cross…Now I rejoice in my sufferings for your sake, and in my flesh I am filling up what is lacking in Christ's afflictions for the sake of his body, that is, the Church, of which I became a minister according to the stewardship from God that was given to me for you, to make the word of God fully known, the mystery hidden for ages and generations but now revealed to his saints."—Col 1:18-20, 23.
Notice two things from that quote:
1) The Apostle Paul was so confident that he was a living and real extension of Christ in the world that Paul could go so far as to say under inspiration of the Holy Ghost: "Now I rejoice in my sufferings for your sake, and in my flesh I am filling up what is lacking in Christ's afflictions for the sake of His body, that is, the Church."—Col 1:23. So what is lacking in Christ's sufferings? Nothing except my participation. Christ's sacrifice on the cross was 100% propitiatory, of course. Evangelical Protestants and Catholics agree on this. But what most people miss in this quote is my participation in Christ's redemptive act lived in the world in 2018 can actually be missing. And when we don't participate in the sufferings of Christ, the Church enters a crisis. Now we have the greatest crisis of faith ever seen in the Catholic Church, but if we take the Bible literally, it is because we in the Mystical Body want Christ without the Cross. It's right there in Col 1:23.
2) Jesus is the head of the Mystical Body of Christ, but "Christ" includes the whole body of every baptized member, down to the smallest. Every time the littlest one suffers, it is still Christ suffering, as when we saw Jesus say to Saul while the latter was persecuting the Church: "And falling to the ground, he heard a voice saying to him, 'Saul, Saul, why are you persecuting me?' And he said, 'Who are you, Lord?' And he said, 'I am Jesus.'"—Acts 9:4-5a. In fact, St. Augustine went so far as to say: "If by Christ you mean both head and body, the sufferings of Christ are only in Christ." Re-read that quote from St. Augustine a few times and let it sink in to get the Catholic idea of how we are all cells in the Mystical Body of Christ and that Jesus is the head and Mary is the neck (the mediatrix of all graces.)  1
Think how a modern Protestant or a modern Catholic would think it extremely arrogant if a modern pastor were to now claim that only Christ lived in that pastor: "I have been crucified with Christ. It is no longer I who live, but Christ who lives in me. And the life I now live in the flesh I live by faith in the Son of God, who loved me and gave Himself for me."—Gal 2:20. But this is how the saving act of Christ continues on in the Church, by acting as loving and as bold as Christ in all our vocations. It is not to keep kowtowing backwards in doctrine for the sake of being "pastoral" that the Church will continue in the West.
We need a lesson from the East, from the Coptic Catholics and Chaldean Catholics and other Christians who balk at the threats of Muslims to abandon Christ, taking the knife the throat before capitulating to false-ecumenism.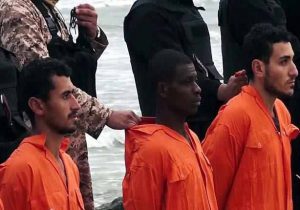 St. Augustine taught something very profound on the mysteries of Christ's Ascension and Pentecost. He wrote this: "And He [Christ] departed from our sight that we might return to our heart and find Him there. For He departed, and behold, He is here."–St. Augustine. What St. Augustine means is that Christ went up at the Ascension, but He is now found on earth in His people after baptism and Pentecost. Thus, Christ saving the Church will happen through saints on earth, not a Protestant idea of a non-incarnate mystical body of Jesus just magically making things better at an emotional level. That idea is not Catholic. It's not even Scriptural.
This is why St. Teresa of Avila wrote: "Christ has no hands but yours." This includes the hands of bloggers.  So, in a doctrinal crisis in the Church, it matters that no one ever capitulate on doctrine, no matter how high the price. The first Great Commandment (love God) comes before and flows into the second Great Commandment (love others.) That means that we must love God before neighbor. We must say the right thing, of course in charity, but always regardless of what we guess to be the unintended negative consequences at the pastoral level.
Without this rather-reckless philosophy, Jesus never would have made the Pharisees angry enough to crucify him. When Peter put Jesus' own awesome ministry of teaching and miracles above of the cross, Peter was called a "Satan." So also, we who work for the Catholic Church (cleric and lay alike) must do the right thing, regardless of consequences even at the ecclesial level.  We can all be masters of our own deceit on what it means to be people-pleasing under the pretext of "pastoral." We can all trick ourselves to say that cracking on doctrine for the sake of being pastoral will save souls.
It never will!
2
The end doesn't justify the means, and this includes sins of omission.  If I fail to speak up for the truth in charity in a crisis in the Church for the sake of keeping the peace or keeping people in my pews or pleasing other clerics…I am sinning. I am literally sinning and harming the two primary missions of the Church: 1) The glory of God. 2) The salvation of souls.
Christ's attitude to the Pharisees is all we need to assure us of this. Was it worth Christ angering the Pharisees that led to their jealousy that ended His ministry? Yes. We would never have the salvation of the cross if Christ had calculated in His sacred humanity the perfect way of pleasing everyone.  Of course, the Son of God would never do this, but just realize you are called to be as bold if we take Catholic Ecclesiology to the extent of how St. Paul and St. Augustine saw the Mystical Body of Christ on earth.
Or really any saint: Christ has no hands but yours. This means writing the truth when it is not popular. You are making a difference. Priests, this means preaching the truth, even if it means losing your jobs. You can never commit a sin of omission for the sake of a future good, for the end doesn't justify the means. Why can I write this so confidently?
Because I very much believe deep in my heart: God is always faithful.