For the few of you who actually live human lives without social media, and don't know who Fr. James Martin SJ is, here you go:  Fr. Martin is a highly influential Jesuit Catholic priest who is editor at large of America Magazine, located just off Columbus circle and Central Park in Manhattan. On 12 April 2017, Fr. Martin was also promoted as a consultor to the Vatican's Secretariat for Communications. Now, I rarely name people by name in my blog posts, but this priest has over half a million Facebook followers. Fr. Martin has a wide footprint in the social justice world, but the most controversial of his teachings is that he implies on a weekly basis that sodomy can sometimes be morally acceptable for two Catholics.  1
Of course, that teaching is against every drop of Divine Revelation coming from the Holy, Triune God "who desires all people to be saved and to come to the knowledge of the truth."—1 Tim 2:4. So, I do not agree with Fr. James Martin's extremely-clear implication that there are certain times when two monogamous same-gender lovers can proceed into disordered actions (even provided their spiritual director declare their consciences clear!) We know this is wrong not only because of Divine Revelation, but the Holy Spirit speaking through the Apostle Paul teaches that one need not even be a Jew or a Christian to know that homosexual actions are wrong. Please experience the beauty of this quote even if you don't think you like St. Paul:
For what can be known about God is plain to them, because God has shown it to them. For His invisible attributes, namely, His eternal power and divine nature, have been clearly perceived, ever since the creation of the world, in the things that have been made. So they are without excuse. For although they knew God, they did not honor him as God or give thanks to Him, but they became futile in their thinking, and their foolish hearts were darkened….For this reason God gave them up to dishonorable passions. For their women exchanged natural relations for those that are contrary to nature; and the men likewise gave up natural relations with women and were consumed with passion for one another, men committing shameless acts with men and receiving in themselves the due penalty for their error. And since they did not see fit to acknowledge God, God gave them up to a debased mind to do what ought not to be done.—Romans 1:19-21, 26-28.
That chapter from Romans is saying that the beauty of creation is enough to show man and woman that those pieces do not go there, even before one gets to the topic of any religion. Thus, Fr. James Martin is teaching not only against Divine Revelation, but against the very nature of the universe.
So why then the title of this blog post, "Leave Fr. James Martin alone!"? Endure this one boring doctrinal paragraph before getting to a whole new battery of overdone similes and metaphors that I'll hopefully never pull out again. Doctrinally, the heresy of modernism has nothing to do with being a modern Christian in an age of technology. What Pope St. Pius X named as the heresy of modernism is essentially the denial of the supernatural and a religion that is anthropocentric (human-centered) not theocentric (God-centered.) When did it start? Some people say modernism influenced the minds of Catholics in the West beginning with the Enlightenment in the 18th century. Others will say it started with the Protestant revolt in the 16th century. Others say it started with Vatican II. Others who are very clever will trace it all the way back to Francis Bacon or maybe Adam and Eve at the fall. Or Satan. That debate is unending.  But really, from all of my study on this, I don't believe that the heresy of modernism entered seminaries until sometime just before World War I. Then, Pope St. Pius X first excommunicated Fr. Alfred Loisy (a Scripture professor at a French seminary) in 1908 for denying the divinity of Christ, denying parts of Divine Revelation and overturning the supernatural side of the sacraments and the miracles of the Bible. Notice that Fr. Loisy was not discussing liturgical innovations or challenging the Church's teaching on contraception. Rather, the root of modernism is a very denial of Divine Revelation. Fr. Loisy himself wrote:
"Christ has even less importance in my religion than he does in that of the liberal Protestants: for I attach little importance to the revelation of God the Father for which they honor Jesus. If I am anything in religion, it is more pantheist-positivist-humanitarian than Christian."—Mémoires II, p. 397.
I'm not saying that Fr. James Martin would ever write this. So, don't jump to any conclusions quite yet. Follow me here: Fr. Loisy did not really believe in the Bible. I know that sounds more like an evangelical sticking-point than a Catholic sticking-point to some, but Fr. Loisy kicked off this modernism thing by implying to many others in the Church that really God did not mean what He said. It started to sound a lot like the enemy of human nature: "'Did God actually say, "You shall not eat of any tree in the garden"?'"—Genesis 3:1. Notice that Satan weasels his way into the heart of Adam and Eve not by the temptation of the sin, but first by the temptation against Divine Revelation: Did God really say in the Bible? This is the root of the heresy of modernism.
Now, we have had nearly 100 years of modernism creeping into the Church. The reason I say "Leave Fr. James Martin alone" is because Fr. Martin was simply the first one courageous enough to rainbow-color in the lines of the adult coloring-book handed to him by superiors who didn't want to take the hits of not really believing any of the hard parts of Christianity.   In some sense, it is not the fault of Fr. Martin for swinging at a pitch right down the middle, a pitch given by parishes and "Catholic" Universities to Fr. Martin, all surreptitiously promoting sodomy and letting this poor man take the hits for his courageous stance, if it can be called that. I rather pity the man. Here he is at my alma mater, Boston College: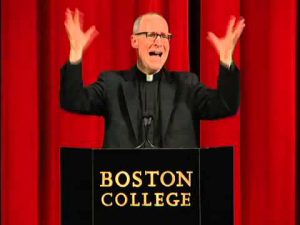 Fr. Martin is the lightning rod that cowardly liberal Catholics have hoisted high above themselves to take all the hits from mean conservatives, all the while shielding their conscience behind each other in what they all call collegiality.  But Fr. Martin also seems to be the surrogate case of conscience to the right. We have a group of barely-awake neo-conservatives who have finally reached their boiling point after sleeping through decades of putatively-orthodox Catholics promoting the exact same heresy of modernism, just non-pelvis issues against the Magisterium, like the timelessness of the liturgy.
Fr. Martin only did one thing new: He brought modernism out of the closet, pun intended, and implied that a gentle God would not send people to hell for sodomy. It's sick, I know, but in that sense, Fr. Martin is nothing more than the intellectual boy-toy for the big, silent players in this war for souls.  These are those men who have not only allowed such a mind to develop, not only fomented such a heart under their tutelage, but finally promoted him as their unarmed little flag-bearer in the culture wars of the Catholic Church. I for one, think it's cowardly to shoot the little drummer-boy in war.
Also, remember that community organizers like Saul Alinsky actually want half of the population to love them and half of the population to hate them.  This schism causes chaos.  So, the more ink you waste on Fr. James Martin, the more you cause chaos.
If you want something good on this topic of homosexuality, go to see the website of my friend, Joseph Sciambra. Joseph was a gay porn star in San Francisco turned traditional Catholic and he even goes to the Latin Mass. He is not schismatic.  He does not hate people who identify as gay.  He actually loves people at BDSM parades more than anyone I know.  However, my friend's website might seem extreme to even mildly-orthodox Catholics, for Joseph claims that no one is actually gay! Still, Joseph has helped me give spiritual direction to some of my dearest spiritual directees and friends who have struggled with same-sex attraction. Again, his site might seem extreme to you at first, but realize that his website has more daily visitors than even Jason Evert, the juggernaut of Catholic chastity talks (a married man whom I admire greatly, too.) I give my friend Joseph a "pass" to my excoriation to leave Fr. James Martin alone, as this is his full-time ministry.
But the rest of you should really go further down the rabbit hole of modernism to ask: Do I really believe everything taught by God in the Bible? If not or if so, you might be able to find yourself in this awesome and accurate categorization of modern American Christians coming from Matt Walsh recently:
1) The Apostates. These are the Christians who have renounced Christ without fully realizing that they have renounced Him, and are now skipping merrily into the eternal clutches of the Devil.
2) The Apathetic. These are the Christians who may basically accept the faith on some level, but they have given up attempting to live according to it, or else they have never really tried.
3) The Struggling. These are the Christians who believe, who try with all their might to live as though they believe, but who are besieged on all sides by the forces of darkness. These Christians have placed their hope in the Lord, but their lives on this Earth, in this depraved culture, are filled with fear, confusion, and pain.
Which one are you?  I really, really love Walsh's categorization of modern American Christians because it allows for no self-righteousness.  It shows that no one is perfect, that the best of us struggle with something, even if not same-sex-attraction. I would sell down the river those struggling with same-sex attraction and relegate them to the category of "apostate" if I gave them a pass from struggling.  Why?  Because "struggling" is what it means to carry your cross of chastity with Jesus Christ in a community that actually wants you "to work out your salvation with fear and trembling."—Phil 2:12.
I will not allow my friends struggling with same-sex attraction to slip into the category of "apostate" or "apathetic Christian." This is what Fr. James Martin does to so-called gays, and it is ironically discrimination against them. Notice one last time that the best of these three groups of Matt Walsh is the "struggling." We all struggle with something to make our lives square away with the rigorous demands of Divine Revelation. And when we try, we find it's not so rigorous.  Rather, His yoke is easy and His burden light.  We are not perfect, but we try. You can't really struggle against your own sins by following Christ if you're spending too much time on Fr. James Martin (or listening to him) so leave him alone.