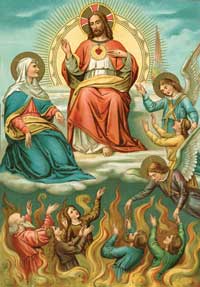 All Souls Day and all of November is the month to pray for the dead, so I decided to run my first "re-post" on this very topic.  (Don't worry.  I have a new blog post coming out Friday called "Stephen Colbert vs. Mother Teresa," and also don't miss my recent commentary on New York Times' Ross Douthat.)
Every Christian is called to do the "Works of Mercy," upon which our final judgment will be based, as seen in Matthew 25: [footnote]
The Final Judgment
"When the Son of Man comes in his glory, and all the angels with him, then he will sit on his glorious throne. Before him will be gathered all the nations, and he will separate people one from another as a shepherd separates the sheep from the goats. And he will place the sheep on his right, but the goats on the left. Then the King will say to those on his right, 'Come, you who are blessed by my Father, inherit the kingdom prepared for you from the foundation of the world. For I was hungry and you gave me food, I was thirsty and you gave me drink, I was a stranger and you welcomed me, I was naked and you clothed me, I was sick and you visited me, I was in prison and you came to me.' Then the righteous will answer him, saying, 'Lord, when did we see you hungry and feed you, or thirsty and give you drink? And when did we see you a stranger and welcome you, or naked and clothe you? And when did we see you sick or in prison and visit you?' And the King will answer them, 'Truly, I say to you, as you did it to one of the least of these my brothers, you did it to me.'
"Then he will say to those on his left, 'Depart from me, you cursed, into the eternal fire prepared for the devil and his angels. For I was hungry and you gave me no food, I was thirsty and you gave me no drink, I was a stranger and you did not welcome me, naked and you did not clothe me, sick and in prison and you did not visit me.' Then they also will answer, saying, 'Lord, when did we see you hungry or thirsty or a stranger or naked or sick or in prison, and did not minister to you?' Then he will answer them, saying, 'Truly, I say to you, as you did not do it to one of the least of these, you did not do it to me.' And these will go away into eternal punishment, but the righteous into eternal life."
(Matthew 25:31-46 ESV)
[/footnote] Did you know that St. Thomas Aquinas considered one of them to be the greatest and most encapsulating? Before scrolling down to see the answer, see if you can guess which one:
The Corporal Works of Mercy are:
To feed the hungry;
To give drink to the thirsty;
To clothe the naked;
To shelter the homeless;
To visit the sick;
To ransom the captive;
To bury the dead.
The Spiritual Works of Mercy are:
To instruct the ignorant;
To counsel the doubtful;
To admonish sinners;
To bear wrongs patiently;
To forgive offences willingly;
To comfort the afflicted;
To pray for the living and the dead.
Answer to my quiz:  St. Thomas Aquinas wrote, "Of all prayers, the most meritorious, the most acceptable to God, are prayers for the dead, because they imply all the works of charity, both corporal and spiritual."
As if the picture didn't give it away…In any case, the last one of all fourteen is considered the most important:  Praying for the dead.
How beautiful that a person in a wheelchair on earth can do the greatest work of mercy that entails all of the other ones! To pray for the souls in purgatory is considered the greatest deed a human can do, according to St. Thomas Aquinas.  It is the greatest petitionary prayer we can utter on earth, in which we do all 14 works of mercy.  (No time to explain right now, but you can probably figure it out.)
I am convinced that never in the history of the Church have the Holy Souls of Purgatory been so ignored.  As you probably know, they cannot pray for themselves, but they can pray for us.  This is one of the reasons we must pray for them.  Are they in the millions?  billions?  I hope so, because that means a lot are saved.  Some saints have claimed that their power to intercede for you and for me is greater than the intercession of the saints.
Love the souls in purgatory by praying for them a lot. That is my resolution at my new parish, for I have utterly failed up to this point.
The early Church documents I have read seem to say that the earliest Christians prayed more for the dead than they even prayed for the living. Love the souls in purgatory by praying and offering sacrifice for them a lot. If you don't love the souls in purgatory as a lover (for the others' sake) then love them as a mercenary, for in praying for them they will reward you a thousandfold while you are on earth and/or purgatory one day…a speedy exit will be assured, they say.