Unless you are a practicing Catholic living in the Great Lakes region of the USA, you probably do not know that an approved Marian apparition happened in the 19th century in Wisconsin. The name of this apparition is Our Lady of Champion, and it was deemed "Worthy of Belief" by the Authority of the Catholic Church and also in 2016 by Bishop Ricken of Green Bay, WI.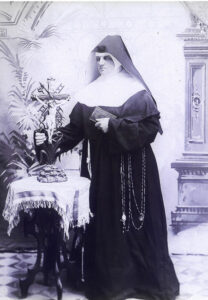 Adele Brise was a girl born in Belgium in 1831. As a young girl, she lost her sight in her right eye due to an accident. Later, her family moved to Wisconsin with other Belgian settlers. When she was walking through the forest in Wisconsin as a 28 year old, the above linked website explains "Adele saw a lady dressed in white, standing between two trees believed to be a maple and hemlock."
The account continues:
A few days later, on what is believed to be Sunday, October 9, 1859, Adele walked to Mass with her sister and a friend. The Church was 10 miles away from home, but Adele made the journey every Sunday, no matter the weather. Along the same path, Adele saw the mysterious lady standing in the same spot between the two trees. However, Adele being the only one to see her, she and her companions continued their journey to Mass.
After Mass, Adele spoke to her parish priest, and he instructed her that if the lady appeared to her again to ask the question, "In God's name, who are you and what do you want of me?"
On her journey home, Adele saw the lady for the third time. As she and her companions approached the hallowed spot, Adele could see the beautiful lady, clothed in dazzling white, with a yellow sash around her waist. Her dress fell to her feet in graceful folds. She had a crown of stars around her head, and her long golden wavy hair fell loosely over her shoulders. The lady had such a heavenly light around her that Adele could hardly look at her face. Overcome by the light, Adele fell to her knees and said, "In God's name, who are you, and what do you want of me?"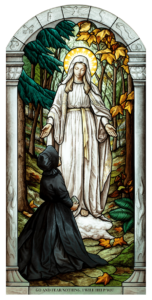 The lady replied, "I am the Queen of Heaven who prays for the conversion of sinners, and I wish you to do the same. You received Holy Communion this morning and that is well. But you must do more. Make a general confession and offer Communion for the conversion of sinners. If they do not convert and do penance, my Son will be obliged to punish them."
Adele's companions, unable to see Our Lady asked, "Adele, who is it? Why can't we see her as you do?"
"Kneel," said Adele, "the Lady says she is the Queen of Heaven."
The Blessed Lady gazed kindly upon them, saying, "Blessed are they that believe without seeing." Then, looking toward Adele, the Queen of Heaven asked, "What are you doing here in idleness while your companions are working in the vineyard of my Son?"
"What more can I do, dear Lady?" asked Adele, weeping.
"Gather the children in this wild country and teach them what they should know for salvation."
"But how shall I teach them who know so little myself?" Adele said.
"Teach them," replied her radiant visitor, "their catechism, how to sign themselves with the sign of the Cross, and how to approach the sacraments; that is what I wish you to do. Go and fear nothing, I will help you."
Adele then gave herself tirelessly to catechesis and later became a nun.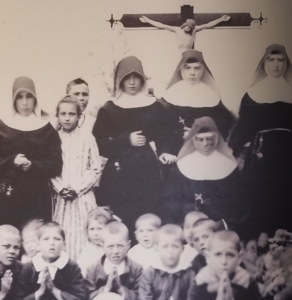 In a video and podcast I produced yesterday, TCE #53: Objective Standards for Modesty, I read quotes from a little 1944 booklet called The Marylike Modesty Handbook. What is amazing about this small booklet is that it was borne of an evangelization mission of an American priest in the '40s determined to spread the importance of modesty. Fr. Bernard Kunkel was a priest in Illinois. (Notice that Illinois shares a border with Wisconsin, the state of the apparition of Our Lady of Champion.)
Fr. Kunkel believed that if women were modest, the whole country could be pure. This harkens back to what Mary expected of America : "Gather the children in this wild country and teach them what they should know for salvation."
This wild country of the USA can only be tamed by modesty and genuinely clear catechesis. This should have been America's special mission to the rest of the world. But by 2023, North America has obviously spread immodesty throughout the world. Yes, we did the exact opposite of what Our Lady asked of the country. However, you can still do your part of cooperating with Our Lady's mission by living the original calling to this "wild country" with an equally bold counter-cultural courage. The Immaculate Virgin Mary's words to Sr. Adele seem to echo to us today: Go and fear nothing, I will help you.