In the first century, following his martyrdom in Jerusalem, the body of St. James the Greater (one of the twelve Apostles of Jesus Christ) was taken by angels and disciples back to the Northwest part of the country he had previously evangelized:  Spain, specifically Galicia.  His body was discovered nearly a millennium later, and pilgrims through the middle ages walked to Northwest Spain to the bones of the Apostle.  In fact, Santiago was one of the three greatest pilgrimage sites of the Middle Ages, next to Rome and Jerusalem.
By the 1970s, the Way of St. James (Camino De Santiago) had nearly fallen into oblivion.  But then something happened in the 1980s and 1990s:  Both Catholics and secular Europeans began to walk the Way again.  Today, about 200,000 pilgrims walk the Camino every year.  I have walked it twice since I was ordained a Catholic priest.  In 2011, I brought ten University students from University of Colorado.  In 2015, I brought 20 University students from Colorado State University.  Although my students were shining lights of evangelization, most the people who we met "on the way" were not practicing Catholics.  Nevertheless, we as Catholics believe that even those living outside of sanctifying grace can receive "actual graces."  And there are many actual graces for those who walk the way of St. James—be they in grace or sin.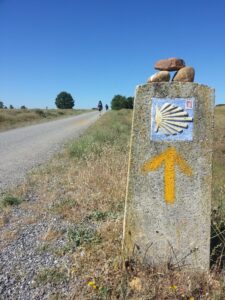 Regarding the Camino as it's known, there are plenty of real-life guides and book-guides and internet-guides.  But I want to outline below the biggest misconceptions I and others had about the Camino before walking it:
1.  If you're a good hiker, you don't need to prepare much.  Just fly into Madrid and take a train or bus to North-central Spain (if you have two weeks to walk it) or Northeast Spain (if you have a month to walk it) and begin walking with a few friends.  If you have a credit card, there will be thousands of hostels (in Spanish, albergues, mini-hotels where you have to share rooms with friends and occasionally strangers) to meet you on the way.  The Camino really takes care of itself because of the albergue system.  It's even hard to get lost, as signs of yellow shells mark the pathways through towns.  Make sure to get your Pilgrim's Credential (passport for the way) before flying.  The official site of "The Pilgrims Reception Office" has explanations of both the paper version and the digital version of The Credencial.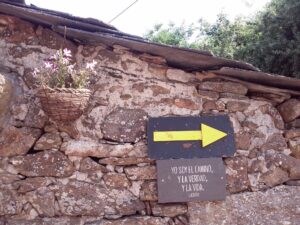 2. There are about five major "ways" across Spain and hundreds of starting points, so anytime someone says "I walked the Camino," the most common question to follow that is "Where did you start?"  I met people starting at 100km outside of Santiago, the bare minimum to obtain your Compostela at the end, the pilgrim's proof of walking, still written to this day in Latin.  I met one man walking it from Czechoslovakia.   All these hundreds of starting points along the five "ways" all converge into Santiago much like the scallop shell that is the symbol of the Camino (see above picture.)  There's only one finishing point (Santiago, not Finis-Terra) but there are countless starting points.  The French Way (El Camino Frances) is the most common way, with the most pilgrims.  I walked this way twice.  Although the French Way crosses all of Spain, the medieval starting point was the Cathedral of Notre Dame in Paris, France.  In fact, you can still see the yellow shell pointing you to start the way on the on Île de la Cité in Paris, today.  However, I began my Camino Frances in the middle of North Spain both times that I brought University students, as we only had two weeks to walk it.  Notice it terminates in Santiago in Northwest Spain at the bones of the Apostle who brought the Catholic Faith to Spain: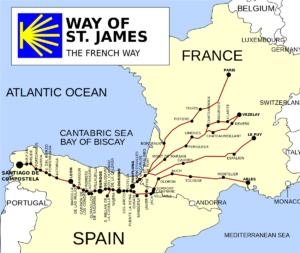 3.  Prepare for a Typical Day Like this: Rise at 6am.  Drink a cafe con leche.  Start walking your 10-20 miles Westbound with your backpack on, and either a friend or Rosary at your side.  9 am second breakfast (yes, Hobbits and pilgrims both get one)  12pm:  Quickly eat on a curb of usually salami and bread and fruit from a market.  3pm Walk into destination town and find an albergue.  Shower, etc.  5pm:  Mass.  6pm-8pm long dinner with friends.  Usually three course meal with wine for only €15 or included in hostel-price for an overnight.
4. You will probably stay in albergues, which are hostels, often with a dozen people in a room.  Most hostels are pretty clean.  We saw some occasional immodesty, but even secular Europeans are interested in getting to bed for a big walk the next day.  So, we never heard of any unchastity in these places with lights-out at 10pm.  Still, if you want to be more isolated in the group you bring, you can stay in nicer hotels along the way. Or, you can do it as the Apostle would have and sleep in a tent.  This would be the real way of roughing it like a medieval Pilgrim:  Sleeping under the stars on the way to "the Field of Stars," in Latin—Compostella—the resting place of St. James on earth.  So, you have three options:  Nice hotels, albergues, or camping.  (You can even wash dishes at most albergues against your room and board if you want to travel without a credit card.)
5.  Don't call the hostels ahead of time.  When I brought CU students in 2011, I had one of them call ahead to numerous hostels.  But it turns out that this was totally unnecessary, as there's a hostel on the French route every kilometer or so.  Thus, you can walk until you hurt.  Some days you might get 10km.  Some days you might get 22km.  You just go as long as you can and then get a hostel.  Even when I brought 20 people in 2015, we rarely had to split up our group between two hostels.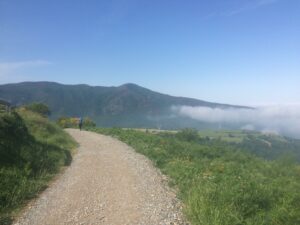 6.  Pack light but smart.  As far as packing, bring a good pair of hiking boots (or shoes) for the majority of the walk.  But also bring sandals for lounging about the hostel in the evening. (Usually the restaurant is located within the hostel, so you want to give your feet a break in sandals, but you don't want to look sloppy in slippers.)  You can wash socks and underwear by machine or even by hand in some hostels.  People often dry out their clothes on lines, so you don't need to bring much clothes if you do a quick clean every night.  Obviously, bring a hat, a water-bottle and a rain-jacket.   Know that it's easier to overpack than underpack.  You really don't need much on this walk!  Even as an ex-paramedic, I didn't bring much first-aid supplies.  The most common item needed is "second skin" or bandaids for blisters on feet.  Keep this in mind:  The hostels take care of your personal needs of sleep and food if you just make sure to not get dehydrated during your daily walks of 5-20 miles with your backpack on.
7.  Which ages can walk the Way?  Great saints like St. Francis of Assisi and St. Ignatius of Loyola have walked the way because of the tremendous graces on it.  Great criminals have walked it in reparation of their sins.  The youngest I saw on the Camino was an 8 year old doing it.  I met numerous people in their 60s and probably some in their 70s and 80s if I remember correctly.  I would suggest a group of about 2-10 people if you're going with friends.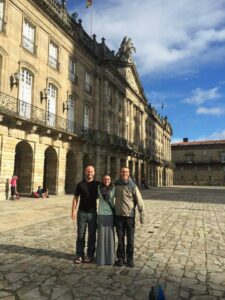 8.  Prayerful or Chatty?  Except for the very end of "the way" when all "the ways" bottleneck in approach of Santiago, most of the miles you walk will have a pilgrim in-sight in front of you, and another pilgrim in-sight behind you.  Maybe there's one or two pilgrims along any given kilometer of stretch of the French Way at any given time of a summer day.  Thus, if you want to be left alone and pray Rosaries all day, you can do just that.  If you want to make new friends along the way, you can do just that.  I explained to Europeans and Americans in Europe just last week:  "The Camino is the way where Europeans act as friendly as Americans and Americans act as contemplative as Europeans."  There's tremendous freedom on the Way to make lifetime friends, or come only closer to Jesus and Mary and the Apostles.
9. The feast of St. James is 25 July.  If you arrive on the Vigil of the Apostle (24 July) you can see the largest fireworks display in all of Europe (proof that there's still a touch of Catholicism in Europe.)  This is a great time to arrive, but it's a bit crowded.  I suggest walking the way in any season except winter.
10.  The best advice I have to give is:  Try to walk the Camino without a smart phone, or at least write out a promise (or pledge) to St. James that you will only check it only every evening once at the hostel.  The great gift of this pilgrimage is to communicate with God on the pathway of one of the three greatest Apostles of Jesus Christ.  It's not to communicate in the same ways you would if you were in your cubicle back home.  So please, consider keeping the phone-off so your soul can turn-on, on the ancient Camino of Santiago.