Even the Wikipedia page for Jim Pouillon reads that "the murder of Jim Pouillon occurred on September 11, 2009… Pouillon was killed while protesting against abortion in front of Owosso High School in Owosso, Michigan."  The man who killed Pouillon is named Harlan James Drake.  That same day, he shot a businessman named Michael Fuoss at a different location.  Fuoss was also killed.  May God rest his soul.
Because the two events were unrelated, and because the second shooting had nothing to do with the abortion debate, one might argue that Pouillon just happened to be at "the wrong place at the wrong time," namely, in front of an abortion center.  Furthermore, I do not know if Pouillon died a Catholic.  To be a martyr, one must die in odium fidei.  To die in odium fidei means to die "in hatred of the faith."
The CNN article on this murder reads:  "Authorities say the suspect, Harlan James Drake, was offended by anti-abortion material that the activist had displayed across from the school all week."  The above-linked Wikipedia article adds, "Drake said that he killed Pouillon because Drake and Drake's mother were offended by the fact that Pouillon was displaying a bloody, gory sign near a school where children could see it."  Of course, this "bloody, gory sign" was a sign of aborted babies.
I also don't know much about Pouillon's life. His estranged adult son implied his father was only involved in the pro-life movement for reasons of anger.  First of all, I don't believe that.  Secondly, even if it's true, the great thing about martyrdom is that it cleans up for a past life of impure intentions, namely, the "why" on apparently we do the good-things we do.  All we need to know is this:  The fact that the killer, Drake, admitted that he shot Pouillon because of his signs of aborted babies in front of an abortion center shows the motive for the killing.  Thus, Jim Pouillon died a martyr of the pro-life movement, even if not one of the Catholic faith.
At the time of the shooting, CBS news reported, "Troy Newman, president of the anti-abortion group Operation Rescue, said he wept when he received word that Pouillon, his friend and colleague, had been killed.  'He was just a kind, gentle man who loved life and endeavored to save other people's lives,' Newman said.  Pouillon himself was a well-known member of Operation Save America."
We in the pro-life movement should all be ready and willing to do the same, loving our enemies and joining our blood in peace to that first innocent execution at Calvary, and secondly to the millions of babies who have died at abortion centers before us.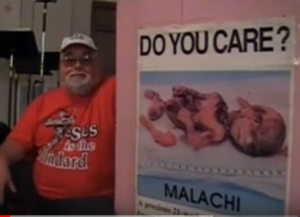 p/c far above New York Times
p/c slightly above Army of God