What Happened?
A 14 year old Catholic girl in Pakistan named Huma Younus was kidnapped on 10 Oct 2019 by an adult Muslim named Abdul Jabbar of Dera Ghazi Khan, Punjab Province, who wanted her as a sex-slave for life.  He has obtained her for just this sordid purpose.  Her family's attorney, Tabassum Yousaf, said, "We have not heard anything from her. Her situation is heart-wrenching. The longer she remains in the hands of her kidnappers, the more she will suffer sexual and mental abuse."
Tabassum Yousaf was able to bring this case to court four months after the kidnapping, but he told Morning Star News:  "The hearing on Feb 3 lasted only five minutes,  The court, in just a few words citing the sharia, has justified the violation of the girl's body since she has already had her first period." In other words, the High Court of the Sindh Province in Pakistan ruled in favor of her kidnapper and rapist, citing sharia law this month (2 Feb 2020) four months after her kidnapping  (10 Oct 2019.)
Sharia is Muslim civil law based on the Muslim "holy book" called the Quran.  The Quran itself reads:
"And successful are the believers who guard their chastity…except from their wives or those that their right hands possess."—Quran 23:6
and
"And those who guard their private parts: except from their wives or those their right hands possess, for indeed, they are not to be blamed."—Quran 70:29-30
The term "those their right hands possess" is idiomatic Arabic for child sex-slaves, especially those born of Christians or Jews.  In other words, Muslims may have sex with any children they kidnap from Christians.  This is the law of the Quran.  This was the practice of Mohammed himself.  This is what happened all the way up to 2019 with Catholic girl Huma Younus in Pakistan.  And the court just ruled in favor of the Quran against this Catholic girl: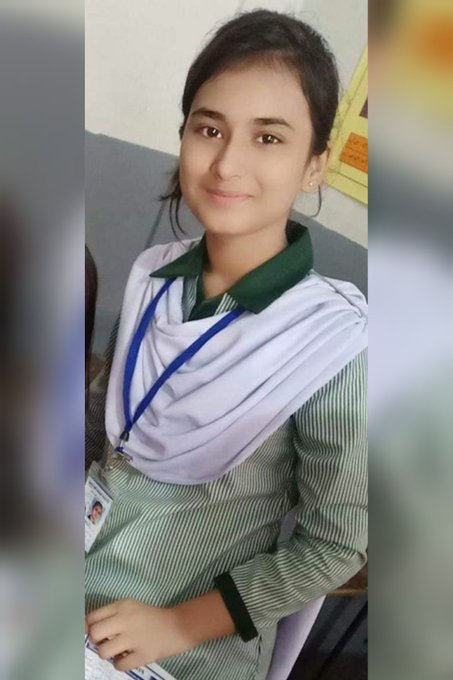 Her family is a very poor Catholic family but managed to get the above-mentioned attorney who challenged the court under the Sindh Child Marriage Restraint Act of 2013.  This makes it illegal to marry a person under 18 years old with up to three years in prison.  But this was not upheld in court for a Catholic girl.  In fact, she was not even allowed to come to court.  The family attorney Yousaf added to Morning Star News that the family was prohibited from seeing Huma because police said her life would be at risk if she were brought to the court room.
Her parents begged for help to Aid to the Church in Need:
What is being done?
To the courts, the family attorney Yousaf submitted Huma's baptismal and school documents to show she is a Catholic:
However, Pakistani law deems it is not illegal to force conversions to Islam.  Thus, her kidnapper and rapist informed Huma's parents by text message that she converted to Islam "of her free will."  Of course, this is a lie.  Prominent Supreme Court Advocate Saiful Malook told Morning Star News, "In no way can any court of law endorse an underage marriage unless it is supported by the girl's guardian," Malook said. "Marriage is governed by the Contract Act, wherein no minor can enter into a contract or agreement without the explicit approval of her guardian."  He also pointed out the obvious fact that any "proof" of a religious "conversion" was clearly based in coercion or blackmail.
A few Christian civil rights lawyers are fighting for Huma, but this little Catholic girl is abused every day by her Muslim captor in the mean time, as no one has come to rescue her.  Aid to the Church in Need, especially their Italian division has been devoting much time to Huma's plight, but I fear the news cycle of the West will pass her by.   One Scottish Parliamentarian also mentioned the horrors that this young Catholic girl is going through:
What Can I Do?
First, begin by using the correct vocabulary.  Huma's case is not "marriage after conversion" or "underage marriage."  The correct term is Muslims kidnapping Catholic children to repeatedly rape as sex-slaves.
Offer up all of your Lenten prayers and sacrifices for Huma and the other 1,000 Christian and Hindu woman and girls in Pakistan who are forcibly converted to Islam.
Share this blog post.  If you know how to contact the Catholic paramilitary mercenaries based in Spain, please do so.  They will often rescue kidnapped Christian children from the hands of Muslims.  However, I do not know how to find them.  If you can find them, get ask them to go rescue Catholic Huma from her cowardly kidnapper and rapist.  The 14 year old Catholic girl looks like this: