Most "EWTN Catholics" (for lack of a better term) might be surprised to find that in the Traditional Latin Mass (TLM) world, there is sharp divide down the middle between those who believe that the private revelations of Sr. Faustina Kowalska are authentic, versus those who do not. I am referring to the Divine Mercy Diary, a book of private revelation written by a Polish nun in the 1930s. A modern EWTN Catholic could, in an overly-facile manner, condemn traditionalists who are wary of the Divine Mercy message for just being "Jansenist" or "disobedient." This would be too easy and not fair. Indeed, one must realize that many traditionalists have good reason to doubt what has come out of the human element of the Church since Sr. Lucia of Fatima explained that a "diabolical disorientation" that would infect a large part of modern Church history. This wariness is not simply a "anti-Vatican II thing." Many traditionalists who have studied Church history realize that modernism was reaching increasing levels in the Church from the 1920s to the 1950s.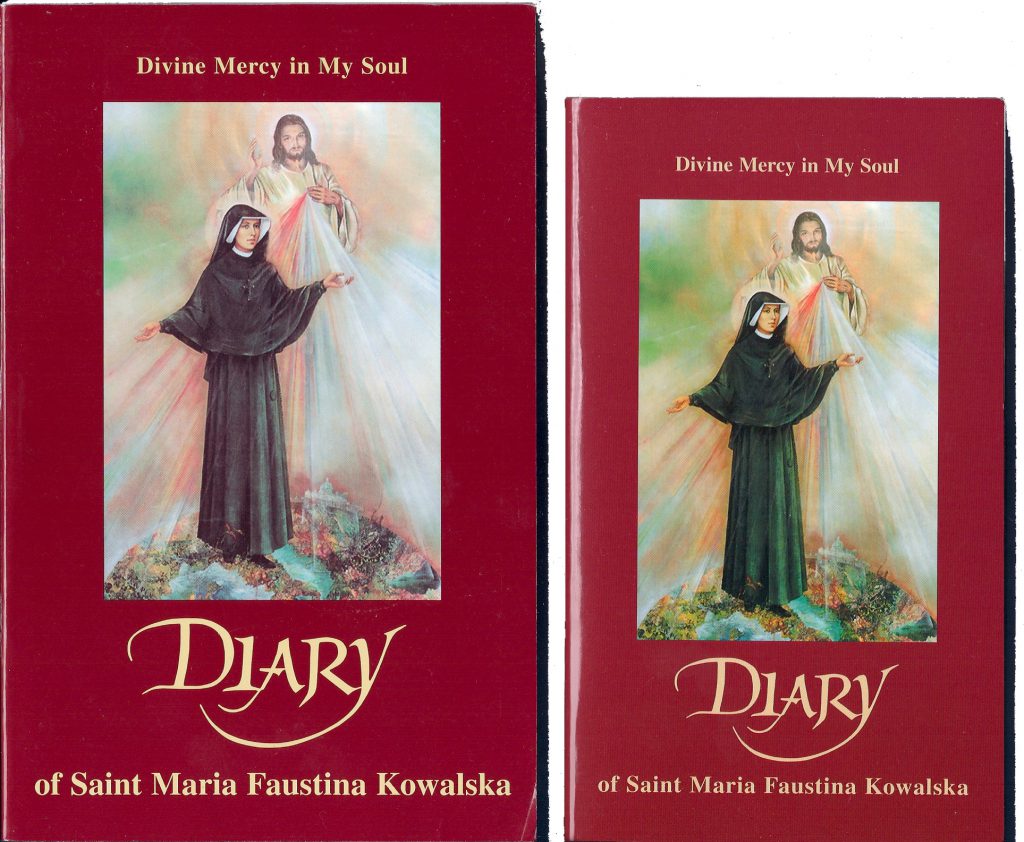 As any reader can tell from the title of this blog post, I am obviously a priest who only does only the pre-1960 sacraments, including the TLM exclusively. However, I very much believe the Divine Mercy apparitions to St. Faustina were not only authentic, but a great gift from heaven to earth in the darkest century of both world history and Church history. Unlike most of my dogmatic blog posts, this is going to be more "experiencey," based at the intersection of my life and others' lives with the Divine Mercy message. If the reader wants to delve into the dogmatic battle in the Divine Mercy world, one could read from a good traditionalist priest his opposition to the authenticity of the visions here. If one desires to read an in-depth traditionalist defense of the Divine Mercy Diary, one could read here, here and here.
Again, I fully admit that the above four blog posts are more dogmatically thorough than what you will read below in my three points in favor of Divine Mercy, so please don't repeat on my Facebook profile the old arguments that are above in the first anti-Divine Mercy link. I love a good debate, so you can bring me new reasons to reject the Divine Mercy Diary, but nothing old, please. So, please read the good and holy Msgr. Perez' opposition to the Divine Mercy message before battling in my comments. In any case, I publish this on Good Friday because this is the day that the Divine Mercy Diary proposes that we begin the Divine Mercy Novena.
1) No Dogmatic Problems in the Divine Mercy Diary
Anytime otherwise-brilliant theologians come up with weak arguments for their position, I tend to smell a fish in their position on that specific topic. One example of this is how many traditionalists have a problem with this quote that Our Lord allegedly said to St. Faustina on 2 October 1936. "The First Friday of the month. After Holy Communion, I suddenly saw the Lord Jesus, who spoke these words to me: 'Now I know that it is not for the graces or gifts that you love me, but because My will is dearer to you than life. That is why I am uniting Myself with you so intimately as with no other creature.'"—Divine Mercy Diary (DMD) 707. Many people who go to the Latin Mass say that this line could not be Christ to a nun, because it overturns the unique position of Our Lady as the highest creature. My response to this is common sense: If a Polish nun wanted to deceive her fellow Polish nuns into thinking she was a saint, she surely would not be stupid enough (or deceived enough on the other end!) to believe that Christ placed her higher than the Blessed Virgin Mary. In other words, trads can reject the DMD, but they should use some common sense in not projecting a Protestant world-view upon a Catholic country like Poland in what even a deceiver (or a deceived woman) would have believed.
Secondly, St. Alphonsus Rodriguez had a similar private revelation (actually a prophesy) of St. Peter Claver taking something of a "highest place" in heaven. Being a Catholic in a Catholic country, St. Rodriguez did not need to qualify that the "highest place" of St. Peter Claver actually could never replace Mary and Joseph! Indeed, for a Catholic, such caveats are not needed. As I said on a recent podcast, we need to re-incorporate common sense into our theology.
But my strongest argument in favor of the authenticity of St. Faustina's private revelation on that DMD 707 line is the following: When Christ said to her, "I am uniting Myself with you so intimately as with no other creature," anyone who has studied the ascetical theology of the Catholic Church (something that is dogmatic, not devotional) knows that such is how Christ unites Himself to any soul! This is not me playing with words. St. John of the Cross, the greatest doctor of spiritual theology in the Catholic Church repeatedly wrote about how unique the Blessed Trinity's union is to each one of us. This is true, even at the lowest levels of holiness, provided we are in sanctifying grace. In other words, it is the spiritual theology teaching of the Catholic Church that Christ uniquely and intimately has united himself to me, Fr. David Nix, in a way as found in the soul of "no other creature." The same is true for you if you are in sanctifying grace. Thus, anyone who has studied (even at a cursory level) the multivalent gifts of grace in the soul should quickly understand that Christ could very easily say to any and every saint in history that He was "uniting Myself with you so intimately as with no other creature." Our souls are even more unique than our bodies.
2. No Sense of Modernism in the Apparitions
The traditionalists who say that the Divine Mercy Diary smacks of "presumption" have either not read the Sacred Heart apparitions to St. Margaret Mary Alacoque or, perhaps in modern traditionalists' defense, they have never really read the truly-modernist, truly-presumption-based false apparitions that float around us today.   I have been accused of being a "heresy hunter" and indeed, it is true, I have the most sensitive antennae of almost anyone I know for finding heresy (a fact that friend and enemy have both accused me of!) But the Divine Mercy Diary fully passes my "smell test" against the heresy of modernism.  Consider the time when Jesus takes St. Faustina to hell, and she sees all of the tortures of hell and then writes this terrifying line:  "But I noticed one thing: that most of the souls there are those who disbelieved that there is a hell."—DMD 741.  That does not sound like a modernist obsessed with presumption. In fact, I believe that a jarring Good Friday meditation (to see what Christ saved you from by His three hours on the cross) might be to read the tortures of hell as found in her diary, seen in this short footnote:  1  
Also, a beautiful Easter meditation might be to mediate on when Christ brought St. Faustina to see the glories of heaven in this footnote here: 2

3. Experiences
I do not know her opinion on the Divine Mercy message, but the lovely and brilliant 96 year old traditionalist Catholic, Alice Von Hildebrand (and let me say that she and her deceased husband have both been great heroes of mine) wrote a stunning article called in Crisis Magazine called In Defense of Feelings that included this line: "I would suggest that the enemies of affectivity read the lives of great saints and great mystics and pay attention to how often a St. Teresa of Jesus uses the word 'feeling.' Asked by her spiritual director, who prudently doubted the validity of her visions, how she could be certain that Christ was speaking to her, she answered: 'lo sentia' (Vida, Chapter 27)." I add to her words: The heart matters as much as the brain on discerning the authenticity of private revelation, provided the private revelation passes the approbation of the hierarchical Church—something the Divine Mercy Diary has already done (unless one fully denies a valid hierarchy, as only Protestants and sedevacantists seem to do.)
I don't claim to be a St. Teresa of Avila, or even a Dietrich von Hildebrand, but I do know my sins enough to write this this: The only time, every year, that I totally feel all of my Purgatory time totally relieved is on Divine Mercy Sunday. It is so palpable and so true, that I simply can only repeat with St. Teresa of Avila, "Lo Sentia." I realize that this is not a strong dogmatic argument in favor of the authenticity of the Divine Mercy diary, so I suppose the more impatient side of me simply wants to say to those who reject the Divine Mercy Diary the following: "If you don't want your Purgatory time relieved, you don't have to have it."
Of course, baptism is the only thing that washes away original sin. If one were to commit a mortal sin after baptism, the only way for that man to be forgiven would be to go to confession to a priest (or in rare instances of perfect contrition, he would be saved if he died before confession. But even if he lived, he could not receive Holy Communion without confessing all of his mortal sins to a priest first.) In any case, one analogy is that a mortal sin is like a nail in the wood of your soul. Confession removes that nail but the hole remains. This is because confession relieves the eternal punishments of sin, but not the temporary punishments of sin. A plenary indulgence granted (following a good confession) relieves all temporary punishments of sin, aka Purgatory. Here on earth, that would be analogous to the wood of your soul already being filled and made healthy.
But such a plenary indulgence may be more difficult to obtain than the typical modern Catholic may realize. In fact, one of the requirements for a plenary indulgence is full detachment from the inclination to not only mortal sin but even detachment from venial sin. Yes, this is required for a plenary indulgence (all the holes of your soul to be filled.) If my understanding of the Divine Mercy message is correct (and I'm open to correction) this is not the case with the Divine Mercy Sunday promise. In other words, I see no rigorous requirements besides what is below in the next picture as found in the FSSP ordo: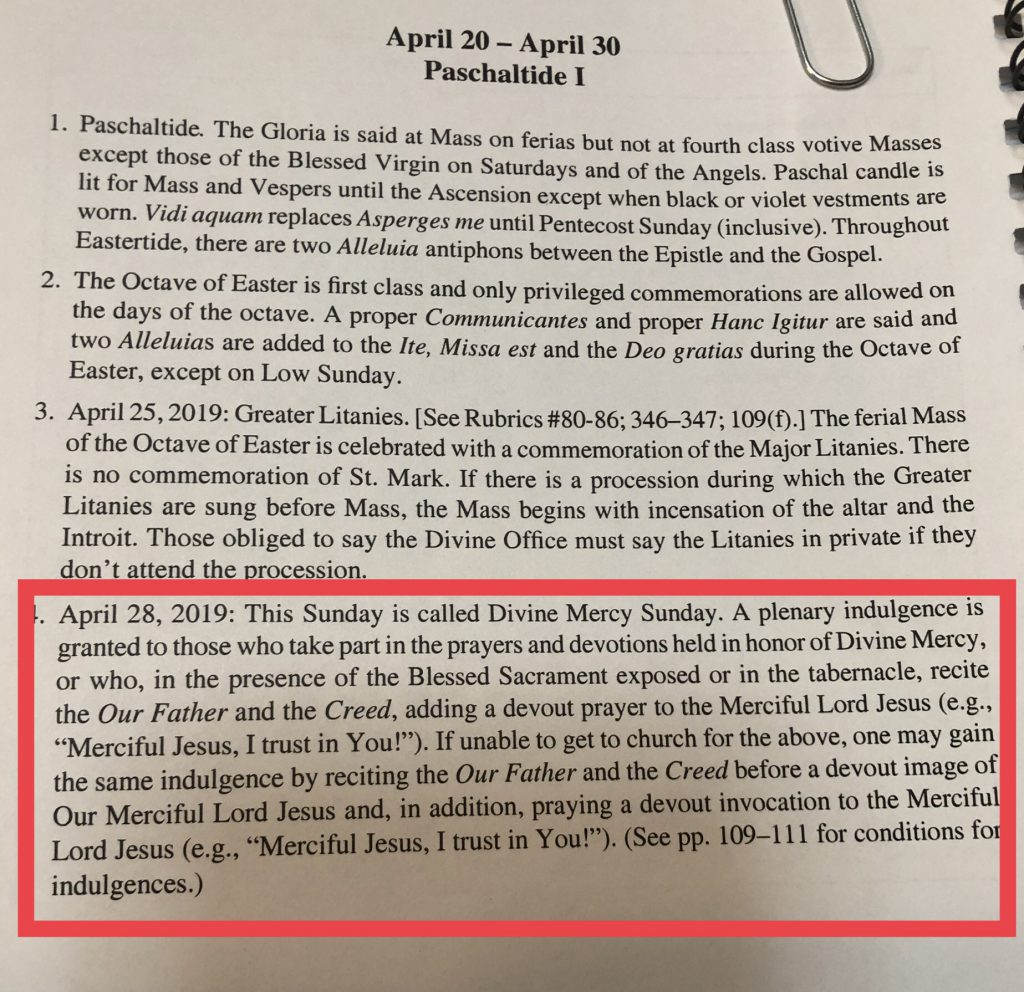 Of course, we must always have the intention of avoiding all sin (both venial and mortal) even to make a good confession (as is the case any time in the year.) But the fact that all of our Purgatory time is relieved on Divine Mercy Sunday with minimal requirements does suggest that there may be something novel and even unprecedented about the Divine Mercy message.
In this sense, I understand why traditionalists are wary of it.
But I would answer such traditionalists by saying that perhaps God gave us the novel and unprecedented Divine Mercy pledge of all eternal and temporal effects of sin relieved without perfect detachment by the 8th day of Easter precisely because of the novel "diabolical disorientation" found in the human element of the Church in the 20th century, not to mention a world full of endless temptations online, replete with genocides of entire races and the unborn—equally unprecedented in world history.

My last "experiential proof" of the power of the Divine Mercy message is that many priests who have been going on the tradition thing for longer than me (and who are older, wiser and more holy) also fully support the Divine Mercy message. Two FSSP priests on Sensus Fidelium have also given their full promotion of Divine Mercy Sunday both here and here (with indication that, in some sense, this final day in the Octave of Easter is actually a much older feast than what entered the Church in 20th century)
The Divine Mercy Novena is not required for the relief of Purgatory time, but if you are convinced this message is from God, please join me today, Good Friday, for the beginning of the Divine Mercy Novena and fulfill the requirements in the above picture if you wish not only your time in hell, but your time in Purgatory totally relieved in nine days.