Although the pro-life movement's arguments can be proved from science as much as religion, one of the reasons that I am so involved in the pro-life movement is based on this piece of theology: God imagined every person as an unrepeatable blueprint long before their conception. Since God is the exclusive Creator of the Universe, and since God is in eternity (two philosophical necessities to a world with only One God) this means that God imagined the blueprint to each person's genome long before an individual zygote was ever conceived. Of course, "imagined" and "before" are words that fail us, especially since we are speaking of a God who exists outside of time with a "mind" that is obviously not a physical cerebrum.
It is good that we say in the pro-life movement: "From the moment of conception you were a genetically unrepeatable human being." But once we add the eternity of God into the mix, it goes even deeper: God had you perfectly planned before He created the Universe. See, if God is eternal, this is not pious or sentimental devotion. God actually loved you into existence during the specific time of history where you are placed (now, if you're reading this now) but God also had you in mind as the unshakeable version of you. Yes, you are an unrepeatable reality of His own image and likeness which was blueprinted before the galaxy. You were originally the perfect idea of yourself as a "thought" of God before you were ever conceived in your mother's uterus. In fact, God had you in mind trillions of years before that physical union. "Trillions" is a also weak word to imagine the one and only God who planned you outside of time. So, really God wanted you from forever as an unrepeatable receptacle of His creative Love and as an intimate reflection of His eternal Love.
Imagine a carpenter who is making a door. Philosophers call the wood the "material cause" where the word cause actually means "end" or "goal." It's the same as telos in Greek, that towards which a being is aiming its own reality as the goal of its existence (more being than doing.)  So the "cause" is needed at the beginning as the intention, just as a door must actually have a form, not just random wood, but actually a cut and sanded door. (See St. Joseph working in the above image.) This "formal cause" is the telos or end toward which a being has its entire thrust of existence. Even more intimate to its existence is the "formal cause," which is in some sense the carpenter's blueprint of his work.  It exists in his mind before he actually takes the wood to task. This is why Aristotle wrote that "First in intention is last in execution." The mental blueprint of the door is the formal cause, end, goal, telos of the carpenter's work, even though the idea and intention existed before the finished product.  So also, each individual human soul had to be blueprinted in God's mind just before conception.  God Himself is the true meaning of Planned Parenthood.  Everything else is a diabolical mockery.
October is the month of the Holy Rosary. Both the Roman Breviary and the Lesson from the Tradition Latin Mass for the Mass of the Holy Rosary today include some lines from Sacred Scripture that were ascribed to Mary by the Church for a very long time:
The Lord possessed me in the beginning of His ways, before He made any thing from the beginning. I was set up from eternity, and of old before the earth was made. The depths were not as yet, and I was already conceived.—Pv 8:22-24b
The old Roman Breviary also seems to ascribe pre-existence to Mary between the Psalms of Matins today: From the beginning, and before the world, was I created, and unto the world to come I shall not cease to be, and in the holy dwelling place I have ministered before Him.—Sir 24:14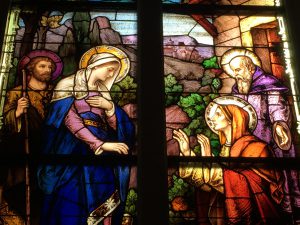 I think many Protestants would be shocked to read that the Liturgy would ascribe to Mary the notion of pre-existence before time. They should be assured that we Catholics believe that Mary was not pre-existent. We do not believe that Mary existed before the galaxy like Her Son did. Jesus is the Divine Word and the Second Person of the Trinity, so He obviously existed before earth. But not Mary. So why then does it ascribe to Mary in both Proverbs 8 above and Sirach 24 that she was before He made anything and even before the world?
The answer is found in the first two paragraphs of this blog post: Mary was an idea of God long before she was conceived.  Yes, she was conceived as the Immaculate Conception during the holy but normal intercourse of her parents, St. Joachim and St. Anne. But her soul had to have been planned before that actual act, just as a formal cause or blueprint in the mind of the Creator of all things must exist. Your soul and my soul was planned on being infused into our bodies as God pre-destined and foreknew us.
Mary was not God. Mary is not God. She is not pre-existent. But the plan predestined for her is the supreme pre-existing blueprint of God's best plan for not only humanity but all of creation:
"God could make a bigger world or a wider sky, but He could not raise a pure creature higher than Mary."—St. Bonaventure
This means that besides the sacred humanity of Jesus (yes, Jesus had a created soul and body even though the center of His personhood is purely Divine as God the Son) Mary was the greatest thing God could think of. Besides the created human soul and body of Jesus (that Christ actually created as God!) we can put all of the above paragraphs together to say that the blueprint of Mary's soul was the greatest thought that God ever had for creation. God outdid Himself in creating Mary. From St. Bonaventure, we might be able to go so far as to say that God Himself could not have had a greater thought than that of planning Mary's soul. Even if this is going too far, remember that St. Thomas Aquinas (always quite sober on his Marian theology) admits that although only the soul of Jesus had the Holy Spirit to an infinite degree, the perfection and grace of holiness infused into the soul of Mary "bordered on the infinite." So, if God Himself could not raise a pure creature to a higher degree than Mary, we can easily say without  saccharine sentimentality that Mary was the woman that God dreamed of before all time.
And so, somewhere within the "eons" (so to speak) of this eternal plan of redemption, Christ made her perfect soul and Immaculate body…about 14 years before He made His own human soul and body.
This is why Venerable Archbishop Fulton Sheen wrote my favorite book on Mary, The World's First Love. He shows that Mary was God's First Love. I am convinced Archbishop Sheen must have titled his book The World's First Love after meditating on those Old Testament readings applied to Mary in the Traditional Latin Mass (Proverbs 8 and Sir 24, as seen above.) In order to contemplate what it means for a planned-but-not-pre-existent creature to hold the Creator for nine months inside her, the old Roman Breviary even ascribes this astonishing line on the Feast of the Rosary to the Blessed Virgin Mary: From the beginning, and before the world, was I created, and unto the world to come I shall not cease to be, and in the holy dwelling place I have ministered before him.—Sir 24:14. That is, Mary was planned to be Christ's holy dwelling before her creation.
One last time, St. Bonaventure's quote: "God could make a bigger world or a wider sky, but He could not raise a pure creature higher than Mary." This means that Mary's soul was planned before the creation of earth to be so beautiful that it would outdo the combined beauty of the souls of all the saints, all the heroic acts of the martyrs, all the beauty of a newly born baby, all the beauty of uncharted planets with their own unknown Grand Canyons and even more glorious than the invisible world of angels. Such is the soul of Mary.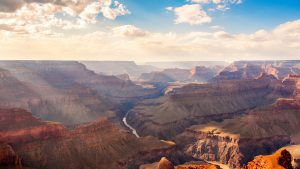 When you say one "Hail Mary," you approach this Immaculate soul to intercede for you. Whether you go to the old Mass or new Mass or you're not even Catholic, you can still fulfill the prophesy that all generations would call Mary blessed (Luke 1:48.) With the Rose garden of the Rosary this month of October, you will see (even if you are not a Catholic) that it is no wonder that Mary's intercession prompted the very first miracle at the wedding feast at Cana (John 2.) Just try to ask her intercession and you will see: Mary is the mother of Catholics, the mother of Protestants, the mother of Muslims and the mother of Jews. Mary is the loving Mother of both transvestites and saints. Mary is the Mother of atheists and Mary is the mother of Jesus. Try the Rosary and you too will see: How could God refuse the request of the most perfect and powerful soul that He Himself has ever created? 1