It is often believed that those who spend their time fighting abortion are of a different ilk than those who fight child sex-slavery. Indeed, all those seeking justice usually have time for only one area of total-expertise, but my blog today will attempt to show that both child-sex slavery and abortion feed each other in a vicious cycle. We must become abolitionists for both of these attacks on children. Indeed, besides the obvious link that slavery and abortion both harm innocent children, there are several important reasons why sex-slavery will continue to grow within the abortion and contraception empire.
1) The disproportionate number of unborn girls killed in China has driven young Chinese men to Vietnam and Cambodia in order to kidnap children as "brides."
China had a one child policy from 1979 to 2013. This changed to a two-child policy in 2013. However, because a family could only have one child, they heavily favored a male child. Thus, Chinese girls were aborted in the millions. Some of these abortions were elective. Other times these were governmentally-forced abortions, even to the extent that China had "abortion vans" that travelled and forced abortions upon young Moms. The effect of this one-child policy has led to an aging population as the BBC reported on here. The effects of gender selection are also far-reaching. By 2020, China will have an astronomical 30 million more men than women. Who will these men marry? The men of China now pay for kidnapped children in Southeast Asia. (The term "child-bride" is a an inaccurate term, considering that coyotes simply kidnap child sex-slaves for a single "owner.") Thousands of Hmong girls have been kidnapped from Vietnam for Chinese men who have no one to marry, as seen in this article by Business Insider, appropriately titled Chinese men buying brides from Vietnam is getting out of control.  Put all this together and the conclusion is obvious: Abortion has played a significant role in the child-sex slavery of Asia today.
2) Planned Parenthood keeps American pimps in business.
Today, there are at least 27 million slaves in the world. At least 2 million of these are child sex-slaves (more than 2 million, if we consider how many abused work sex "on the side" of their forced manual labor.) The United States government reports that there are 100,000 child-sex slaves here in the United States alone. (One should never use the term "child prostitute," since a child never chooses prostitution, for only emotional brainwashing and drugs lead these children to this forced sex-slavery.) The FBI has rescued children as young as 6 years old from child sex-slavery. 95% of the child sex-slaves in the United States are girls, and most of them are between the age of 13 and 18. Of course, these are child-bearing years for most of these girls. But if a pimp is to allow 20 johns (trafficking term for rapist) a day to enter a 15 year old child sex-slave, he most certainly does not want her to get pregnant. The answer is clearly contraception and abortion for the numerous children that he "owns."
However, these pimps do not want to get caught, so Planned Parenthood has proven to be their aid in providing contraception and abortion to their sex-slaves, without the involvement of law enforcement. In this video, Live Action conducted a sting-operation in 2011 against Planned Parenthood in Perth Amboy, New Jersey. A fake pimp tells Planned Parenthood manager Amy Woodruff, "We're involved in sex work…some of them are like fifteen, fourteen, and some of 'em don't speak any English." Amy Woodruff then helps the fake pimp to keep the girls in slavery. She even gives him advice on what kinky acts the children can do for sex after the children are subjected to abortion. "Waist up," Woodruff says with a smile. This is not an isolated incident. Planned Parenthood frequently covers for adults raping children. In this similar sting-operation video, the sexual abuse of a 13 year old proved to be no problem for Indianapolis Planned Parenthood.  Law enforcement is never contacted to help a 13 year old who was raped.  Money remains the bottom line for Planned Parenthood.
The abortion agency goes deeper into the world of child sex-slavery than most of us pro-lifers might expect. Roughly two-thirds of those rescued from sex-slavery say that their forced abortions came not from a back-alley abortion chop-shop, but rather from an official abortion center. In this sickening report, one young survivor said, "I got pregnant six times and had six abortions during this time. Several of them were from a doctor who was a client- he did them back door- I came in the back door after hours and paid them off the books. This kept my name off any records…At least one of my abortions was from Planned Parenthood because they didn't ask any questions." Notice that the abortion doctor raped a child and then killed his own child when she got pregnant by him.
3) Contraception is the bond that keeps teenage sex-slaves under control, not free to control their own bodies.
A Guttmacher report shows that "54 percent of women who have abortions had used a contraceptive method…during the month they became pregnant." This means that contraceptives do not prevent abortion, but rather promote abortion. Besides the fact that the Pill or injections function as an abortifacient nearly 500 million times a year worldwide, the Pill and barrier methods also prove to be false-saftey nets against surgical abortions for both girls and women. What does this mean for the trafficking world? This means that contraception and abortion go hand-in-hand for traffickers who are trying to control their teenage girls' active reproductive systems. The reasoning is obvious: Traffickers must stop pregnancy at all costs. A child born to one of his slaves will greatly reduce his income. Thus, conception and birth must be stopped at all costs for the pimps who make hundreds of thousands a year on their child sex-slaves, even here in the United States. Indeed, contraception and abortion are the primary bonds against the girls (combined with the brainwashing and drugs to get them in the underground market in the first place.)
The ILO reports that Human trafficking earns profits of roughly $150 billion a year for traffickers. This includes $99 billion from commercial sexual exploitation. Mafia members have switched from selling drugs to selling girls. Why? Cocaine can be used only once, but a girl can be used over 20,000 times. Thus, child sex-slavery is extremely profitable, as long as the girls don't get pregnant.  And if they do get pregnant, Planned Parenthood will abort the baby with no questions asked.  That way, the children return to their abusive owners (who pay for the abortions) as soon as possible.
In 2011, the FBI did a raid on a brothel in New Jersey. They suspected that there were Mexican prostitutes being run out of the home. What they found was rather a home for child sex-slavery. This became the well known story of "The Girls Next Store." The FBI website reports:
"The article 'The Girls Next Door' describes a conventional midcentury home in Plainfield, New Jersey, that sat in a nice middle-class neighborhood. Unbeknownst to the neighbors, the house was part of a network of stash houses in the New York area where underage girls and young women from dozens of countries were trafficked and held captive. Acting on a tip, police raided the house in February 2002, expecting to find an underground brothel. Instead, they found four girls between the ages of 14 and 17, all Mexican nationals without documentation. However, they were not prostitutes; they were sex slaves. These girls did not work for profit or a paycheck. They were captives to the traffickers and keepers who controlled their every move. The police found a squalid, land-based equivalent of a 19th-century slave ship. They encountered rancid, doorless bathrooms; bare, putrid mattresses; and a stash of penicillin, 'morning after' pills, and an antiulcer medication that can induce abortion. The girls were pale, exhausted, and malnourished."
Notice who wanted the easy access to morning-after pills and abortion-inducing drugs. It was not the teenage Mexican girls. It was their captors who wanted easy access to contraceptives and abortifacients. Of course, these were not for the physical health of the young girls, but to keep them enslaved as long as possible. Thus, contraception is like chemical handcuffs that the pimps put on barely-fertile girls, even here in the United States. Remember also from number two above that many abortion centers will provide contraception and abortion for these for girls being raped without any involvement of law enforcement. Thus, even the FBI report makes it clear that abortion and child-sex slavery fit together like a hand in a glove.
We must get over the Pretty Woman glamour of prostitution that we saw in that movie with Richard Gere and Julia Roberts. In that imaginary world of prostitution of the 1980s, an adult woman uses contraception for her health. The reality is much more grim. First, the normal oral contraceptive kills embryos at the rate of millions a year.  Secondly, the Pill frequently causes pulmonary embolisms in women, as seen in this study by the British Medical Journal. Thirdly, most girls enter slave work during their teenage years, usually against their will.    This means that contraception rarely comes with their own consent. Globally, contraception is truly the friend of traffickers.  The New York Times even did an article titled To Maintain Supply of Sex Slaves, ISIS Pushes Birth Control.
4) Once a society allows children to be abused in the uterus, they will be abused as toddlers and teens.
When the topic of child sexual abuse comes up in conversation, many Americans will bring up the Catholic Church priest scandals. The 2% of priests who did such actions did irreparable harm, so I will never make any excuse for those priests who destroyed families and probably forfeitted their own souls if they die without repentance. However, the Catholic Church has always said that such behavior is a mortal sin, and it is categorized as a sin that cries out to God for vengeance. So, we need not worry about the articulated faith and morals of the Catholic Church on this. But we should worry about the teaching of the academy on these things.  Consider that the American Psychiatric Association has recently (but somewhat quietly) condoned pedophilia by declaring that It's Normal to be Aroused by Children.
One of my heroes in the anti-slavery movement is an Italian priest named Fr. Cesare Lodeserto. In Italy, countless women and girls from Albania and Nigeria have been trafficked into the sex-slave world. Fr. Lodeserto has not only rescued numerous Albanian women, but he has a safe house until they can return to work a normal job in the world. This safe-house has heavy steel gates at the entrance, replete with armed police patrol behind its high wire fence. Due to his rescue of valuable "property," the mafia even kidnapped Fr. Lodeserto and threatened his life, as seen here. But Fr. Lodeserto continues in his life saving work of women.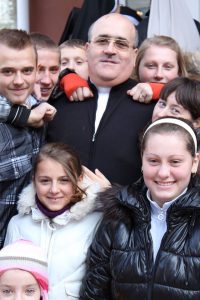 When a trafficked woman gives birth to a baby, she is rarely free to leave the sex-trade business. In fact, the mafia who does the trafficking will often take the baby and harvest it for organs. A 22 year old Romanian prostitute who gave birth to baby. The baby was taken by her pimp and killed. She never saw her baby again. She said, "I think that my babies were taken for their organs or to be sold. I don't know for sure." See the BBC article here with her and Fr. Lodeserto.
Why do the pimps take these babies? In that same article, Fr. Lodeserto explains that the babies are kidnapped to kill and then sell their organs, especially their kidneys and livers to the international transplant industry. Secondly, he points to the illegal adoption agency, which has also become a very profitable business.
What does this have to do with abortion? You see, once a child is a commodity in the uterus, a toddler or teen will soon lose value in society, especially if the young person be a female. We should not be shocked that a world that accepts abortion will kidnap the babies of sex-slaves and kill them for their organs.  Just click on the BBC article above if you think this is an exaggeration.
The rate of gender-selection in favor of boys in India is upwards of 99%. During the National Prayer Breakfast in February 1997, Mother Teresa said the following in the presence of President Bill Clinton and Hilary Clinton: "What is taking place in America is a war against the child. And if we accept that the mother can kill her own child, how can we tell other people not to kill one another." I add: When a life can be extinguished by the push of a vacuum button, then what is to stop a nation from pushing a similar button to nuke another country? Indeed, the ending of abortion is our only hope for the safety of children worldwide. We are now seeing that we are willing to kill and abuse toddlers and little girls, and I believe this is because we have devalued pre-born life.
What can we do to rescue and protect children?
You can donate to your favorite a pro-life organization that either does sidewalk counseling, free ultrasound services, work for unwed pregnant mothers or support families who have adopted children originally slated for abortion. As most people have their favorite pro-life organization, I will not suggest any here.
Consider that Children of the Immaculate Heart will take care of the girls' physical needs and psychological needs following unspeakable trauma. It will also be also offer very orthodox Catholic teaching for any girls who are open to it. I'd encourage you to support this exciting new venture.
Most importantly, fast and pray for the Triumph of the Immaculate Heart, the only thing that will end abortion and child sex-slavery. The Holy Mass and the Rosary are our best weapons. Please make a concrete resolution with me to pray these daily for the end of everything you just read.