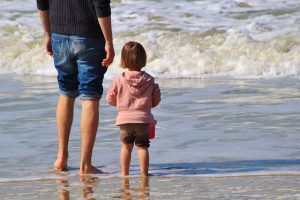 When it comes to triumph over unjust suffering, there are few saints more inspiring than the Apostle Paul:  "I rejoice in my sufferings for your sake, and in my flesh I am filling up what is lacking in Christ's afflictions for the sake of his body, that is, the Church." (Col 1:24)  But in the Old Testament, the gold medal of joy amidst suffering must go to Joseph of Egypt.  When we consider that Joseph was betrayed by his family and sold into slavery, we begin to meditate on the plight of the millions of children sold into slavery today.  When Potiphar's wife unsuccessfully tries to seduce him, she falsely accuses him to be the aggressor and lands him in prison.  "And Joseph's master took him and put him into the prison, the place where the king's prisoners were confined, and he was there in prison. But the Lord was with Joseph and showed him steadfast love and gave him favor in the sight of the keeper of the prison." (Gen 39:20-21)  Who can miss the connection to how pimps often flip the tables to make innocent girls think themselves to be impure?  This brainwashing into guilt helps to keep many girls enslaved for years.
After rescue, restoration can be not only a long road, but a tired road.  The example of Joseph becomes primary at this point, because after enduring false-accusations, slavery and imprisonment, Joseph never stops waiting on the Lord.  "Waiting on the Lord" might sound an overly-pious phrase to avoid dealing with the deep wounds caused by sex-slavery, but a look closer reveals what Joseph was expecting from the Lord in prison:  "The Lord was with Joseph, and showed him steadfast love, and gave him favor."  (ibid.)  God sends such saints who have endured enslavement and prison to show that "The Lord is not slow to fulfill his promise as some count slowness" (2 Peter 3:9a) so that others who have suffered unjustly never despair of "God's steadfast love."  "Steadfast love" must be reflected in the restoration homes for girls because we get no easy fixes, no pithy phrases, no shallow spirituality to close the day.  In fact, the road to becoming a new creation is as messy as a crucifixion.  Anyone getting into restoration with terse phrases will be highly disappointed at the complex brokenness encountered in the girls.  Restoration work takes patience, even slowness in human eyes, to one day be able to observe what Jesus meant when He said "Behold I make all things new."  (Rev 21:5)
The New Testament Joseph, the celibate and chaste spouse of Mary, reveals another example for those of us in the anti-trafficking and restoration movement for children caught in slavery.  I am more convinced than ever that the supply of children is linked to the demand of sex, fueled primarily by pornography.  But St. Joseph remains "the just man" (Mt 1:19) who protects women and children from Herod, from Egypt.  Anti-trafficking will begin and end with male discipleship, and we have no better example than the fatherhood of Joseph to inspire young men and dads with true manhood and fatherhood.  A man will either be a father or a predator; there is no third option.  The innocence of [mostly] girls caught in sex-slavery becomes an image of the Church who must be protected and cleansed by Jesus the bridegroom who loved the Church to the point of  being able to present her "in splendor, without spot or wrinkle or any such thing, that she might be holy and without blemish." (Eph 5:27)  With the Blessed Virgin Mary as the exemplar of the Church, St. Joseph stands as the protector of the Church, of women and of children.  St. Joseph is the mirror for men to compare themselves against, at least those those who wish to end trafficking and defend little children.