Except for the Blessed Virgin Mary, I would say that my favorite saint is the Apostle Paul. Why is that? Blaise Pascal once wrote, "The heart has its reasons of which reason knows nothing." So, of course not everything can be identified.
But here's a few reasons:
St. Paul was the "Chosen Channel" and the "Standard Bearer" of the entire Gospel of Love. He chose to know nothing among you except Jesus Christ, and Him crucified (1 Cor 2:2.) Christ Himself chose him to transmit the Gospel over the whole Mediterranean region nearly 2,000 years ago.
With Christian-radio being played in my house all during the time growing up, I learned to love St. Paul from an early age. As I said on a recent podcast, my Catholic grade-school education was very much based in social justice, but at least my parents loved the Bible as charismatics.
In my first year in seminary, we took a 30-day silent Ignatian retreat based on the Spiritual Exercises of Loyola. At that point, I got really mixed up in certain penances and attitudes of many saints. Perhaps to correct this, I sensed at one point Christ said to me something like: "Just imitate me and St. Paul." (I know this sounds a bit Protestant at first read, but remember that St. Paul was both a Catholic priest and bishop.)
St. Paul lived in a world like ours: 1) The world was basically pagan, and he was chosen to evangelize it. 2) The old religion he grew up in had to be fulfilled in the new. (Now, the opposite is true that the new must return to the old.) St. Paul wrote about how he was not just a Jew, but a Super-Jew: If anyone else thinks he has reason for confidence in the flesh, I have more: Circumcised on the eighth day, of the people of Israel, of the tribe of Benjamin, a Hebrew of Hebrews; as to the law, a Pharisee; as to zeal, a persecutor of the church; as to righteousness under the law—blameless.—Phil 3:4-6. I feel like I can say that about being a liberal Catholic become a traditional Catholic: "If anyone thinks they know liberal Catholicism, you have nothing on me: I was a pot-smoking social-justice warrior of a Jesuit-educated Catholic. And now I do only the Traditional Latin Mass!" (I explained that conversion on this video recently.)
St. Paul spent three years in the desert (Gal 1:17) before his mission. So, he went from hermit to missionary. I often call myself a "monk-missionary," so hopefully something of my life will eventually reflect his.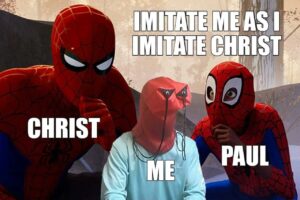 St. Paul, as a priest and bishop, loved the sacraments. But he also realized that those ministers who followed in his enormous wake could do all the baptizing and most other sacraments, for St. Paul's job was primarily to spread the Christian faith: Christ did not send me to baptize but to preach the Gospel, and not with words of eloquent wisdom, lest the cross of Christ be emptied of its power.—1 Cor 1:17. So also, I do not miss parish life much. My job is to preach the true traditional faith online and on the streets. People I never met have returned to the sacraments due to my work (especially the blog post 10 Mortal Sins Catholics Are Missing.)
As a child, I was much much smaller than the other boys. Also, I came to the traditional Catholic faith relatively late in life. Now, sometimes surrounded by old-school traditionalists (at times) I feel like a faith-runt, born a bit late. But "runt" is quite nearly what St. Paul calls himself in yesterday's Epistle (11th Sunday After Pentecost) in his description of his life and mission. In fact, the Latin translated from Greek is abortívo in 1 Cor. 15:8. That is, the Apostle Paul is the miscarried-Apostle or the runt-Apostle! I often call myself the "botched-abortion" of my diocese, for so many clergy and lay alike have tried end my priesthood—but they have never succeeded. The Douay-Rheims for abortívo is "one born out of due time." It seems nearly everything in my biological-life and faith-life has come "out of due time." I'm not comparing myself to St. Paul, but I am saying if he can be a runt-Apostle, maybe I can, too.
In yesterday's Epistle, the Apostle gives thanks to God for all of this: Grátia autem Dei sum id quod sum, or "Thanks be to God I am who I am!"