Not that anyone has ever challenged me on this, so I don't know why I repeat myself on this, but my donors do not pay for my pilgrimages. When I go on a professionally led-pilgrimage, the other lay pilgrims pay the way of the priest. This is quite common in the Catholic world. But, as always, I do thank you my donors for all your generosity to me for my normal room and board and ministry. We still have some openings for a pilgrimage I will help lead to the Holy Land with Jesse Romero in October 2023. You can find details here.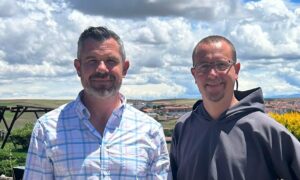 Dr. Taylor Marshall invited me to be one of the two chaplains for a Latin Mass pilgrimage to the Marian Shrines of Portugal, France and Spain. He asked me to be a chaplain along with a traditional priest from Mexico, who also happens to be a friend of mine. Taylor and I are above. At the far top of this blog post is me offering Holy Mass at Lourdes.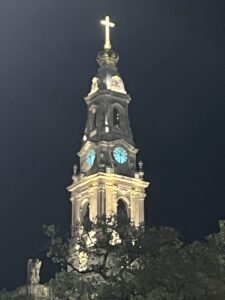 We also went on to Fatima. This mysterious green clock that I snapped at night reminds me of time-ticking away at all the Popes who did not adequately consecrate Russia. It reminds me of how easy it would be for a Pope to do what Mary commanded: To consecrate exclusively Russia with all the bishops of the world to the Immaculate Heart of Mary. Pope Pius XII did that (without all the bishops of the world.) Pope John Paul II did Russia (but tagging on the rest of the world for political reasons.) Rome's inability to obey heaven reminds me of time-ticking as so many souls fall like snowflakes into hell, as Our Lady showed the children of Fatima.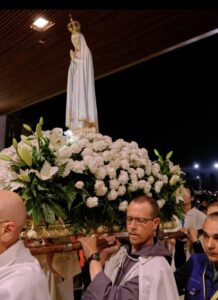 In happier news at Fatima, I was chosen to carry this statue of Our Lady during one of the Night Vigils. (I didn't ask for this great honor.) It was surprisingly heavy, even as several of us carried the statue of Our Lady. We walked around the courtyard praying the Rosary. This courtyard is placed between the very beautiful 100-year old Church of Fatima (seen above with the green clock tower) and the modernist Church that someone said looks like a subway station in Moscow (thankfully not pictured in this blog.) But the two Churches really reflect, um, the two Churches that seem to have developed in the Catholic Church. (Of course, there is only one Church, meaning Vigano is right that there is currently a "parallel Church" fronting as the Catholic Church.)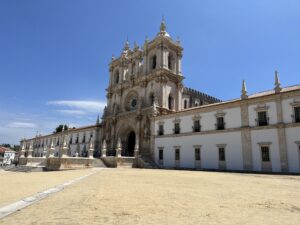 Above is a 12th century Portuguese monastery I visited called "Alcobasa Monastery." The Portuguese King Afonso promised St. Bernard he would build it if he kicked the Muslims out of Portugal. King Afonso won, and kept his promise to St. Bernard. I was surprised to hear how the Muslims of 12th century Portugal had much power, but were few in number.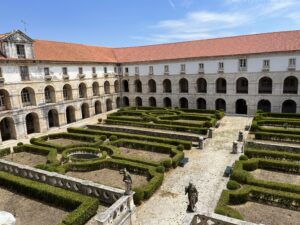 It reminded me of the globalist-elite today keeping so many people afraid in wokeness. But it also demonstrated to me that a saint and a king who have no fear of evil can win entire kingdoms for Jesus Christ—not only on heaven, but even on earth!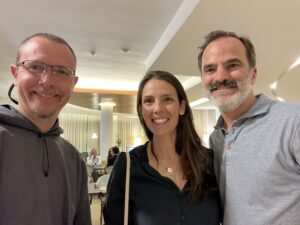 I never thought I'd meet another convert to tradition from Boston College, but here she is with her husband.  They brought their lovely children on pilgrimage to Europe with us, too.
We went on to Loyola, Basque country. For all my talking about how much I love the original Jesuits, I had never been to Loyola until 2023. It turns out that the home in which St. Ignatius was born is the same location as where he had his conversion as he healed from his leg injury from the canon ball. I got to teach our 80 pilgrims the basics of how he taught his men how to pray in this very home. Here is the talk I gave in Loyola in the birthplace (and conversion location) of St. Ignatius of Loyola: