My brother in law, Luke, in an Alaska charter fisherman for four months a year. His boat is seen above. He takes clients to catch salmon and halibut in Southeast Alaska. His wife (my sister) goes up there with their five kids to overlap with him about three of those four months. The rest of the year, they live in Denver (as do I.)  The last time I was up there I was just a newly ordained priest.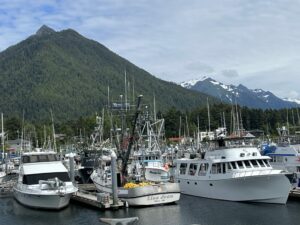 Luke and I were half-joking and half-serious how much simpler it was when I last visited around 2012. He and my sister had only one daughter. They had not yet had their treasure of a daughter born profoundly deaf (seen in the headband with cochlear implants below, about whom my sister wrote Remedies for Sorrow, published by Penguin Random House just this year). It was pre-COVID, pre-Biden, pre-wokeness. I was a new priest still believing in the "New Evangelization" with no desire for Church reform under Pope Benedict XVI. Most importantly, my Mom was still alive. My Mom had a major terror of flying but my sister even got her to their part-time Alaska home several years ago. As most of you know, my mother fell asleep in the Lord during Holy Week this year, 2023.
I still can't believe she is gone, but I'm constantly comforted by her holy death.  Still, we missed her a lot on this trip.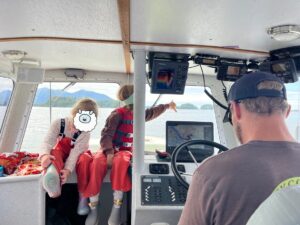 My Mom leaves a great legacy, and some of it is in her grandchildren.  On the boat that day were a few of her grandkids (my nieces) as seen above.  My Dad and I have not taken a trip together (just the two of us) for probably 20 years when I was looking at Jesuit Universities from Loyola Marymount to Boston College (where I ended up graduating from.)  Being in Alaska this week was of course bittersweet to travel without my Mom, but it was much-needed to continue with life—as my Mom would obviously want us to do.    My Dad never traveled much without my Mom, meaning he didn't travel much (due to her fear of flying.)  It was good for him to get out on the plane and boat at age 82.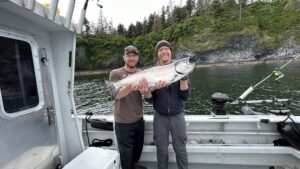 Luke set the lines on his boat for big catches and he let me reel in two king Salmon of equal size.  Luke and I and one of those fish is seen above.  That is only 20 lbs and he had a client once pull in a 56 lb. king salmon.   As I have written before, my BIL and sister are raising their kids as Russian Catholics.  There is a heavy Russian influence on Southeastern Alaska and there was a lot to think and pray about in all of world history and my family's history while walking the rainforest of Sitka with my Divine Office, including a walk called "Russian Memorial Loop."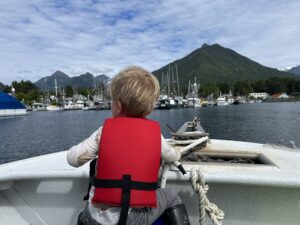 I also did some thinking on his boat why Our Lord chose numerous fishermen to constitute the original Apostolic College of twelve men who changed the world. Some of the similarities between being a fisherman and an apostle are obvious: Going from being a fisher-of-fish to being a fisher-of-men; the strength it takes to live alone on a boat or in a foreign country as a missionary; the ability to travel into the unknown. A friend of mine with a son with autism who is non-verbal once wrote about how the Apostles had to be fishermen because they had to understand that the things they could not see were just as real as the things that they could see.