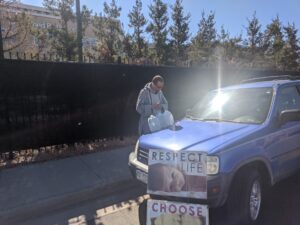 Wednesday morning is my time of praying at the third largest Planned Parenthood in the world. It is called Park Hill Planned Parenthood, located in the Stapleton neighborhood. Who is Stapleton? Ben Stapleton was a 20th century mayor of Denver who was a member of both the Democrat party and the KKK. (Yes, you read that correctly and can corroborate it in the first paragraph of his Wiki page.) Here at the Stapleton Planned Parenthood, clinicians surgically kill 10,000 babies a year, as well as countless chemical abortions and now "gender-therapy." This pre-born killing center is located in a black and hispanic neighborhood, just as a Democrat-Klansman would want.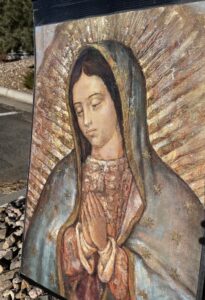 The above image was given to me by the Ton family. They are also on my Wednesday pro-life team. It is obviously a large, laminated image of Our Lady of Guadalupe. I often pray my old Roman Breviary while holding it. The first day praying with that image of Our Lady of Guadalupe, we had a turn-around of a Mexican couple right at the abortion-mill entrance. By "turn-around" we mean an abortion-minded family ostensibly had a conversion and refrained from killing their child—at least for that day—and hopefully forever. I'm very thankful for that large and beautiful image of Our Lady whose Feast Day is tomorrow.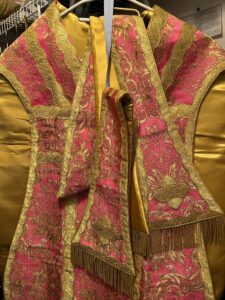 When people ask me if they can send me gifts, I usually say what it says on my Donate Page, namely, that packages can not go to my PO Box. (It's true that I can not normally accept packages, firstly because my PO Box is very small and secondly my little hermitage can not take another book in it.) But occasionally someone prevails upon me to send a special gift to the address of some friends. Such was the case when the Lopez family asked me what I needed liturgically. I said I was fine but only lacked Rose vestments. I explained it wasn't worth purchasing me vestments for a hermit priest who lives alone and will only wear them twice a year. But they won the debate and sent the above beautiful Rose vestments that I wore today, Gaudete Sunday, 11 Dec 22. (Notice it is one day before Our Lady of Guadalupe this year, so it fits nicely with the first gift above.)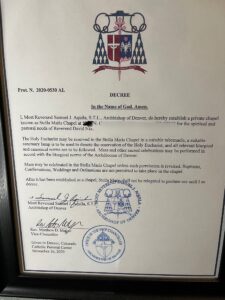 The above is a decree from my Archdiocese granting me permission to keep the Blessed Sacrament in my hermitage. Notice it is dated over two years before this blog post. (I can still do baptisms and marriages in parishes, not just in my condo as it's not normally an appropriate location.) Because my hermitage is a condo in a lower middle-class neighborhood, there are frequently fires and fire-alarms. Therefore, I was hesitant to keep the Blessed Sacrament here, as I would never forgive myself if the Blessed Sacrament burned down while I was gone. Sometimes, I would drive to a traditional parish 20 minutes away for a Holy Hour after offering my own Low Mass in my condo.
But eventually I decided I needed to move the Son of God into this hermitage. (I decided I could consume the single reserved host, should I leave for more than 24 hours.) So, when another family on the East Coast asked me if I had any liturgical needs, I answered "a small tabernacle." They immediately designed a very sturdy one with the dimensions I gave them them, namely, 6″ x 6″ x 6″ as seen in the above picture. They sent that extremely-well designed (but small) tabernacle to my friends' address in Denver. Then, my friend Brad who does construction bolted it in extremely tightly. As seen in the picture above, it has a key to open the tabernacle where I can keep one consecrated host.
The tabernacle and the Rose Chalice-Veil and Rose Burse can both be seen on the altar in the image at the very top of this blog post that I took after the Traditional Latin Mass today. That altar is a desk that my own father made for me when I was eight years old. Offering Holy Mass on that is a beautiful connection to my own past and my own family. Eventually, however, I will need to build a non-moveable altar as that is what is required by the Catholic Church. I just need to see if I stay in this condo long-term or not. If I stay here long-term, I would be very grateful for any future donors to build me an altar. But we'll have to see what shakes out in these treacherous days of Church and State before I cross that bridge with you, my generous donors, for whom I am thankful.
For now, I have everything I need.