I want to thank all my donors for your tremendous kindness to my way of life of prayer, study, podcasting, pro-life work and evangelization. One advantage to having many "small donors" instead of "big donors" is this: I am beholden to no one except Christ as I speak and write as best as I can on issues of reform of Church and State. When someone comes to the point that they don't like what I say or write, they simply leave my support team, and it doesn't affect me too much. I wish them all the best! I truly have no hard feelings at all. I would rather have the freedom to preach hard truths than all the money in the world. Friends come and go. Donors come and go. (I honestly can't think of anyone specifically as I type this.) I just know I try preach Christ crucified, but including Him being crucified in the current Church crisis makes many friends and many enemies. So, a big thanks to those of you who have stuck with me through thick-and-thin.
Many in my online community are going through unbelievably difficult times. Some of you have lost your jobs from not taking the vaccine. Other family situations are unspeakable. I too am at the point in my life where spiritual attack is so severe, that I beg some of your redemptive suffering to be cast my way.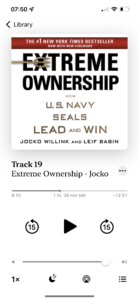 I just finished the above audiobook, Extreme Ownership and its sequel, The Dichotomy of Leadership. Both are written by two Navy SEALs, Jocko Willink and Leif Babin. Their writing is helping me take responsibility for my life. As I alluded to in some past Life Updates, there was some self-pity in my life for how hard my years in seminary and priesthood have been. I can tell you this: If you're looking to get rid of excuses in your life, these are the two books I highly suggest. Taking Extreme Ownership of my life has allowed me to move past excuses regarding the lack of virtue in my life that I had previously blamed on other people.
For example, today marks the 8th anniversary of getting kicked out of my last Novus-Ordo assignment. I was canned because I called the police on an employee when she was having a nervous breakdown. Though I was angry at the injustice of removing me for this for years, I am now extremely thankful to God that these events (and others) have led me entirely away from Bugnini's sacraments. By God's grace (often working through my own enemies' plans against me) I now do offer exclusively the ancient seven sacraments. Also, all the lack of virtue in those years in my life was my fault, not my life's circumstances. That's a step closer to "extreme ownership," but please pray I get the whole way there.
There's also great freedom in knowing I need to be defined by no one's attacks in my life. When one adds the grace of Jesus Christ onto what one learns in Extreme Leadership or Dichotomy of Leadership, one comes to the same conclusion that the Apostle Paul wrote 2,000 years ago: For freedom Christ has set us free; stand firm therefore, and do not submit again to a yoke of slavery.—Gal 5:1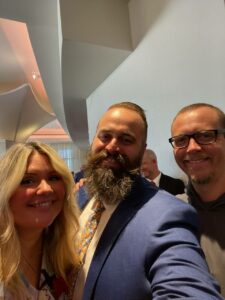 Recently, I was given VIP tickets to the LifeSite News Gala in Florida. LifeSite News is an agency that spreads pro-life news and exposes heresy in the Church. At their Gala, I got to meet certain people whom I had only previously interacted with online, like Kennedy Hall and his lovely wife. In fact, I got to meet many of you, my listeners, readers, donors and my spiritual-supporters! It's a great gift to meet in real life those with whom I had only texted or emailed. I also got to see friends again whom I had known in real life, like Fr. Jim Altman and the Shea and Sperling families.
The Gala also was a revelation how many American Catholics (and others from around the world) battle to again establish the reign of Christ the King. I was encouraged to meet so many red-blooded, blue-collar folks who all stand against the vaccine, who stand against this leftist tyranny that seems to creep like Sauron's reign across Middle-Earth. If you still watch mainstream media (and I hope you don't) you might find it hard to believe you're wrong for not being brainwashed as most of our nation. But the Gala in Florida featured some of the greatest voices against our pervasive authoritarian governments and an infiltrated Catholic Church hierarchy. If Christ conquered the world with 12 men, you start to think He would be able to win back the world to Himself and His Catholic Church with a room full of saints and patriots in Florida.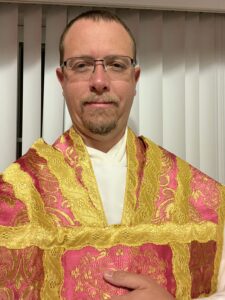 I want to give a big thanks to the Lopez family who sent me Rose colored vestments. My PO Box can not receive packages, but they were able to get another address out of me. Now I have all colors of vestments to wear at Holy Mass for every day of the year within the old-calendar. This was the last set I needed of chausible, stole, maniple, burse and chalice-veil.
Finally, thanks to those of you who do other services for me gratis, like Lisa A. (my accountant) Mike T. (my webmaster,) and Shawn T. (a paramedic) who will train me (and subsequently, my pro-life team) on the new ultrasound machine that Abby and Doug Johnson sent for us to use in our travels when we encounter diocesan crisis pregnancy centers across the nation that are not-yet-open during the mornings we encounter abortion-minded women who might speak to one of our women trained in the use of this life-saving machine. They also got another address out of me to send this: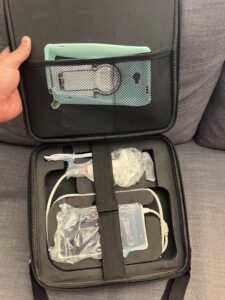 Again, a very big thanks to those of you who have stuck with me through thick-and-thin through the years.