Above is The Denver Post's picture of Ms. Joyce Calvo-Chen
In December 2019, a young woman named Miss Alana Chen (see picture far below) was found dead at age 24 and Boulder County, Colorado ruled it a suicide. Her mother, Ms. Joyce Calvo-Chen (see featured image at top) immediately pinned it on the past counseling of two diocesan priests (including myself) and two religious sisters. This was despite the fact I had not seen Alana for three years before her death.  This was despite the fact that I was a priest at Joyce and Alana's Boulder parish from 2010-2011—a full nine years before Alana's death.  At her death, I blogged about how Alana had (in the past) defended me against false-accusations here.
Immediately following Alana's death, Ms. Joyce Calvo (her divorced mother) told many secular media sources that her daughter Alana was "a lesbian" and that she had committed suicide based on past spiritual direction from the Catholic Church.  Again today in 2022, she wrote these lies against me at NCR.  But this new publication uncovers some significant self-contradictions in her narrative, and I am thankful she has exposed her own lies this time.
In the new article, Ms. Joyce Calvo writes of me:  "Nix told her not to tell anyone, especially her parents, who he believed would affirm her identity. Instead, he invited her to meet with him regularly."  But immediately following Alana's death back in 2019, she claimed the opposite to the Colorado Hometown Weekly in that she claimed that she "wouldn't permit the one-on-one sessions, but would allow [Fr. Nix] to meet with her daughter if she was present."
So which one is it? By Ms. Calvo's new account in NCR, she now writes:  "Fr. David Nix, a controversial priest who, unbeknownst to me or her father, began to take an intense interest in our daughter." But at her death she wrote that she "wouldn't permit the one-on-one sessions, but would allow the priest to meet with her daughter if she was present."  Ms. Calvo is obviously caught in her many lies by this point.  Under Ms. Joyce Calvo's two false-narratives combined, she is now asserting that she herself drove her teenage daughter the entire 16 mile round-trip car-ride from Louisville to Boulder, CO "for the next eight years" as she just wrote in NCR.  How could I meet with someone "for the next eight years" if I was only stationed at their parish for a year?
There's another major contradiction in her story that proves she is a liar and may even explain the cause of Alana's suicide.  Calvo quickly claimed immediately following her daughter's tragic suicide in 2019 that this was due to the Catholic Church's bad advice in past years gone wrong. She wrote on Facebook only a few days after Alana's death: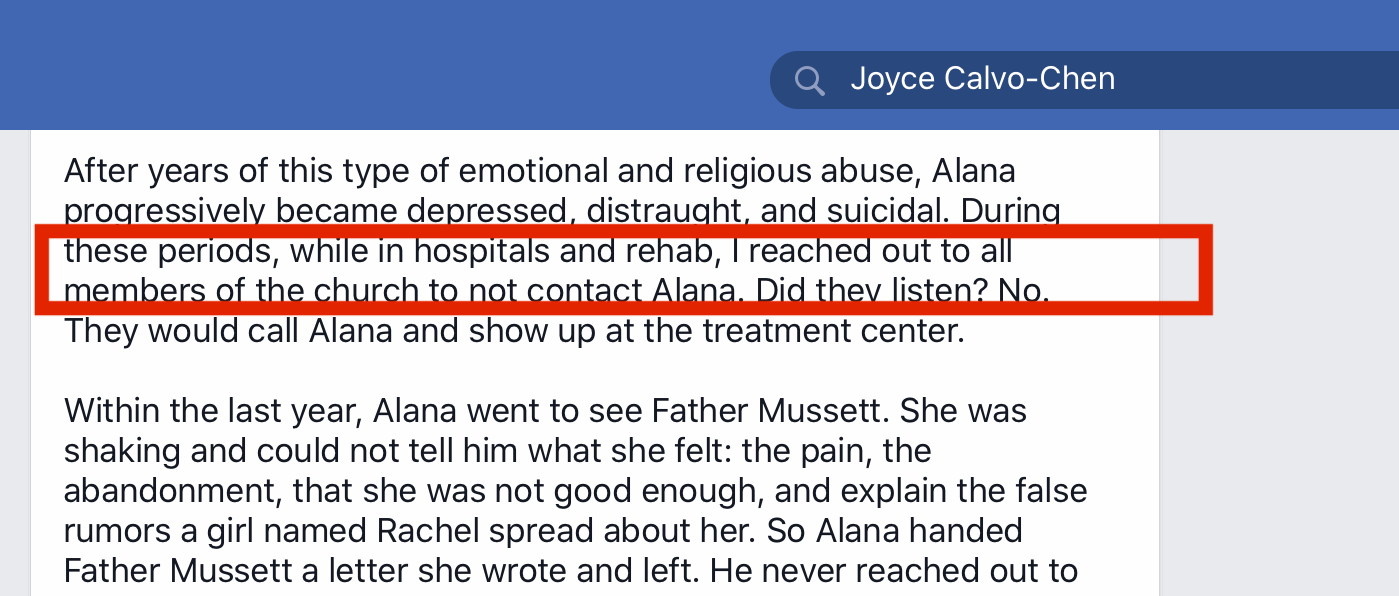 Notice above in red that she "reached out to all members of the Church to not contact Alana" before Alana's death.  (This does not refer to me, as I had been gone from their parish for eight years by this point.)  However, Calvo then explained to Colorado Hometown Weekly just two weeks after her death: "She was tormented, this was even after a lot of therapy," Calvo said. "(The church) abandoned her. The suicide stuff happened because she felt abandoned and tormented." Put those two quotes together, and by her own words, the outcome becomes sadly very clear: Calvo told all members of the Catholic Church before Alana's death "to not contact Alana," which directly caused Alana to feel "abandoned" by the Catholic Church—the very feelings which Joyce publicly claims led to Alana's "suicide."
Keep in mind that these are Calvo's words, not mine.
What Calvo unintentionally makes clear herself in the above quotes is that Alana was never "abandoned" by her Catholic clergy and religious sisters, but rather she was abruptly cut off from the lifeline she chose for herself and loved—the Catholic Church—by the interventions of her own mother.
For once, a significant truth has finally come out in Calvo's many, many lies.
UPDATE on 21 Aug 2023 regarding podcast called Dear Alana…
There is a new podcast by a man named Simon Fung called Dear Alana recounting the above events of her life and death.  Fung interviews her friends and families on this 7-hour, 8-episode podcast.  He also reads extensively from her private journals, which is both creepy and immoral.  But I believe the posthumous-journal segments that he quotes are authentic.  In episode 7, he reads this from her journal:
"When I went to treatment, Rachel, Fr. Peter, Fr. Dave and the sisters were the only ones that I trusted. They were the only ones that stayed by my side. But as I became more true to myself, I guess they didn't see the need to mentor me. I feel misled and abandoned, like they all made it, but I lost. It hurt so much when they left me."
Fung later asserts that this disproves the above blog-post.  He says the above journal entry proves I abandoned Alana.  But Fung purposefully ignores what the 6 Jan 2020 article of The Denver Post reported just weeks after her death.  In an article on "conversion therapy," her mother Joyce Calvo admitted to The Post that she removed me out of her own adult daughter's life as a yearly spiritual-director back in 2017:
"Emails from 2017 between Calvo-Chen and Auxiliary Bishop of Denver Jorge Rodríguez that Calvo-Chen provided to The Post show Rodríguez assuring Calvo-Chen that Nix would no longer counsel Chen without her mother's knowledge. 'This situation has ended,' Rodríguez wrote. 'After your email, I personally talked twice with Fr. David. He has assured to me that this will never happen again.'"
The Denver Post is only partially accurate, for I was not prohibited from talking to Alana only at times "without her mother's knowledge." Rather, I was put under an absolute prohibition from ever talking to Alana again, at her mother's behest.  And I obeyed, never speaking to her for the last two years of her adult life.  This is because Calvo called my diocese in 2017 telling them to tell me never to talk to her again.  The bishops told me what to do.
So, I obeyed this, and this was a bad decision.  But the above news from Fung's podcast reading her journal also supports Calvo's original claims that she "reached out to all members of the Church to not contact Alana."  Then, she shockingly admits the cause of her daughter's death:  "The Church abandoned her. The suicide stuff happened because she felt abandoned and tormented."
Combining Fung's podcast with the above evidence, it becomes clear that Joyce was ending Alana's faith-based friendships, but Alana only knew about some of these sabotages.  Hence, her great sadness in that journal quote above that Alana [erroneously] believed I abandoned her.  Also, we must ask the obvious:  Was her Mom's sabotage of her Catholic friendships the reason why Fung didn't interview any of Alana's Catholic friends on that 7-hour podcast?
Yes, the "suicide-stuff" (as her mother suspiciously calls it) happened because Alana was barred from her parish by her own controlling mother.  That's the clear evidence above which comes from them, not me.  So, if Fung were to ever put objective-truth ahead of his personal-advance on a dead woman's tragedy, he would come to the only possible conclusion with the evidence at-hand:  The closer Alana was to the Catholic Church, the happier she was.