Jews vs. Catholic Basketball Game (10 Years Ago This Weekend)
This weekend is the 10th anniversary of the Jews vs. Catholics basketball game that Rabbi Yisroel Wilhelm and I started as chaplains of University of Colorado in Boulder. (You can see how young I looked in my first year of my priesthood  in 2011.)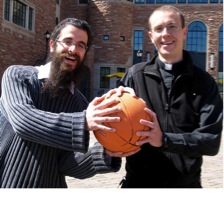 Catholic News Agency covered the story 10 years ago in Boulder:
Although the idea began as a joke, and still elicits laughter from students, an April 17 "Jews versus Catholics" basketball game has a serious purpose for the priest and the rabbi who organized it as a form of outreach to their communities' non-practicing members.
"These are the two main religions of the West, and there are a lot of people who left them," said Fr. Dave Nix, parochial vicar at St. Thomas Aquinas Catholic Center in Boulder, Colorado. "The second-largest religious denomination in the U.S. is ex-Catholics. This is a link back to people's roots, in a fun way."
Fr. Nix organized the game along with Rabbi Yisroel Wilhelm, who directs campus ministries for the Hasidic Jewish outreach group Chabad. Rabbi Wilhelm and Fr. Nix, both age 32, hope the game will bring back young adults who have fallen away from their religion.
Catholic team members "don't have to promise they'll go to Mass and Confession," said Fr. Nix, who says that "if you're a baptized Catholic and you can make a free throw, you can play." But he said the game offers reluctant Catholics "a connection to the family of faith, even a chance to be bold about belonging to it, before they're ready to make any kind of commitment."
Rabbi Wilhelm's organization, Chabad, has the explicit aim of bringing nominal Jews back to the practice of their religion. Fr. Nix observed that the Catholic Church, despite its universal mission, often faces a similar task.
"Our mission is to reach every single person for Christ, whether they're Catholic or not – but of course, our first mission is to reach Catholics. We want to reach people who were baptized as Catholics, but aren't practicing their faith."
For men, he said, sports can play an especially important role in this kind of "re-evangelization."
"Sports is a way that people can trust each other, in a competitive environment," said Fr. Nix. "It's sort of like going to war. You can learn to trust someone, but it's not on the basis of how orthodox they are or how frequently they're going to Mass."
"The question is, can they be a real man? Can they act competitively?"
"Discipline is an important part of following Christ, and an important part of sports. There's a connection between those who can take up the cross and follow Christ, and those who are willing to be competitive for their team."
Fr. Nix said he was glad to live in an era where a "Catholics versus Jews" basketball game could take place in a friendly spirit. But he noted that he and his Jewish counterpart were not seeking to downplay the real differences that divide the two faiths.
Catholicism and Chabad-Lubavitch Hasidism are "both pretty black and white religions," he said, reflecting on both groups' strong truth-claims and adherence to tradition.
Fr. Nix observed that the opposition of his team and Rabbi Yisroel's is not the "gray versus gray" contest that might take place between more liberal Christian and Jewish groups. However, in keeping with Chabad's spirit of tolerant conservatism, many of the Jewish players will come from branches of Judaism that are less traditional than Rabbi Yirsroel's own.
Even the team uniforms will contain an acknowledgment of what Catholics and Jews have in common and what separates them.
"The back, for the Catholics and Jews, is the exact same," Fr. Nix explained. "The front has a Star of David over the left breast, for all players."
"But the Catholics have a Cross inside the Star of David," he said, "almost as if to say: 'Jesus Christ fulfills all of the Hebrew Scriptures.'"