I spent 2017 as the parish priest in a small bayou parish in south Louisiana. Their normal pastor was serving as a chaplain for the US Army for a year, and he needed someone who knew the Traditional Latin Mass. His tiny bayou parish was very unusual insofar as it was under the jurisdiction of the diocese of Houma-Thibodaux, but was 1962-sacraments-only. The bishop down there was very good to me. Like most "Latin ghettos" in other dioceses, this Latin Mass parish was found in a poor part of the state, in this case on Tiger Bayou, full of gators and ditched oil rigs. I describe Louisiana as a "Catholic Texas" and I very much fell in love with Louisiana and her people. For example, when my neighbors across the bayou found out that my sister's family was coming out from Colorado to visit me for a week, they immediately put out big speakers for zydeco music and fired up a crawfish boil for us: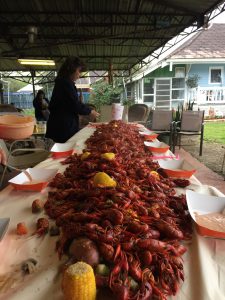 Every Tuesday night, I would head to New Orleans and stay with a very gracious family on Esplanade. Wednesday morning, I woke up to go counsel at a very nasty abortion center called "Women's Health Care Center" on 2701 General Pershing. By "counsel" we in the pro-life movement of course mean that we compassionately and peacefully ask couples who are going into an abortion center to reconsider life for their child. We offer free medical care, adoption, financial support and anything needed… so that the woman entering the abortion center does not have a "doctor" inside kill her living, child with a heartbeat and eyes and toes, all to end up in the dumpster behind General Pershing.  We call it "a save" when someone decides not to kill their child. In all honesty, I don't have many "saves," which is why I usually just do the Leo XIII chapter 3 minor exorcism prayers in front of the abortion centers (something the bishop of New Orleans gave me permission to do.)
But Wednesday, 24 May 2017 was a bit different. It was the vigil of the Ascension of Our Lord.  Several of us pro-lifers were outside General Pershing, counseling women going inside, begging them not to kill their children, but usually with more attractive vocabulary than that. Most of my sidewalk counseling team is usually women about ten to twenty years older than me. My friend Clemmie is one example.  That day, she spoke to a 20 year old woman who was about 8 to 10 weeks pregnant.  She was going inside the abortion center, and it seemed like a good conversation because the young woman said she'd go back to her car and think about it. She did return to her car, but then, disaster: She decided to keep her abortion appointment.
As she was walking back inside, Clemmie was on the other side of the building, unable to intercept her. However, the young woman accidentally ran into me! Here I was in my cassock (Roman Collar) with a book in hand and everything. A thousand pro-life phrases ran through my head, in order to save this baby. But something stupid came out of my mouth.  I said: "Honey, it doesn't look like you want to go in there, do you?" She said "I don't know." I said, "Let's go get breakfast." She said, "Ok." So, I quickly invited Clemmie to come with us. There, over Mexican eggs and shrimp, the gal agreed to go with us to get her a free ultrasound at a Crisis Pregnancy Center (CPCs) in Metarie. (It's very hard for women to abort their baby when they see it for the first time on ultrasound, even when they have an abortion appointment, as it was in this case.) So, our new friend quickly followed us over to a Metarie CPC. There, she got her ultrasound as we prayed before the Blessed Sacrament.
Now, you have to understand:  CPCs treat us sidewalk counselors about in the the same manner that well-groomed Emergency Department physicians treat gruff street-paramedics: "Thanks for your work, now please leave the patient alone." In defense of CPCs, they have good reason for this protective strategy: Abortion-minded women need one and only one lifeline of support when they choose life, not numerous pro-lifers checking up on her. So, Clemmie and I went to get lunch in obedience to the CPC. However, as we were leaving, our new friend was looking at us. We knew the CPC didn't want us to talk to her much anymore, but she clearly needed us as friends at that moment. I sheepishly invited her to lunch.  She answered in a sweet Louisiana drawl: "Well, I wouldn't want to impose…"
By the end of the day, Clemmie and I had spent about 7 hours with our new friend, and her unborn baby.  She had decided on life!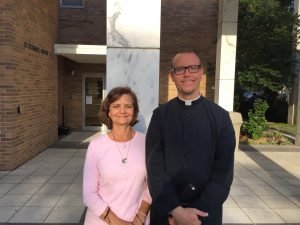 Clemmie and me on that providential day.
By now, it was almost rush hour, and I had to get Clemmie back from Metarie to General Pershing. We were pretty confident our new friend was going to stick with the growing unborn baby inside of her, so we zipped back home. Clem and I got on a crowded Eastbound I-10 when, all of a sudden, the traffic went from 60mph to 0mph. As an ex-paramedic, I had an immediate spidey-sense that something very bad had just happened. My peripheral vision caught a wave of cars piling up behind a downed motorcyclist. I jacked the wheel hard to the right to pull into the emergency lane. "Stay right here Clemmie," I said, as I grabbed blue latex gloves from my car door pocket to go investigate.
In the middle of New Orleans' biggest interstate, I found a 17 year old boy, lying on his back and bleeding with his motorcycle next to him. There were probably 1000 cars behind him, and there was an eerie silence because there were no sirens yet. I got his helmet off and began talking to him. I had to make an immediate decision whether I would leave him in the dangerous interstate, or move him to the jersey barrier, a move that might compromise his cervical spine if there were a fracture. I decided to move him. We got him to the jersey barrier there on I-10 and I began working him up as the ex- paramedic that I was. I found a pelvis fracture that New Orleans EMS would later miss, and my informing EMS of this find probably bumped up his treatment to a Trauma I or Trauma II center. In any case, as I was doing all my medicine, but before EMS arrived, there were bystanders watching all of this, and in the far distance, you could start to hear the sirens. 1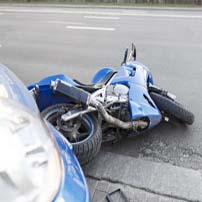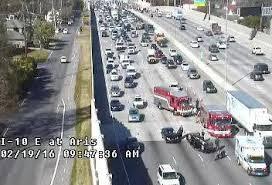 The kid started to wake up. Remembering that this was New Orleans, and how many Catholics were in town, I asked him if he would like to go to confession. To my shock, he said "Yes." So…I sent away all of the bystanders.  The Fire Department was not yet there, either. There, as he leaned against the cement bleeding, with his motorcycle still in the middle of I-10, he confessed his sins. As I raised my hand to give him absolution, I saw the kid's blood all over my latex glove. I watched my right hand, full of blood, go up-and-down, left-and-right, as the instrument of the blood of Jesus Christ, forgiving his sins.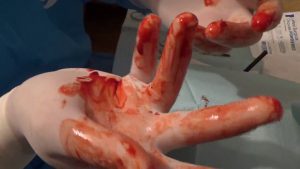 At that moment, I remembered the words of Archbishop Fulton Sheen:
"We don't realize that the very Blood of Christ is dripping from our fingers onto their heads, washing the penitent clean."
A few minutes later, NOLA EMS arrived, and I transferred my patient, broken but cleaned.  I never saw that kid again.  I don't even remember his name.  Later in that day, I found out that the General Pershing abortion center had sent hired armed bounty hunters to look for me, claiming I kidnapped their client!  I know this story is hard to believe, but I promise all of it is true (except the above three pictures of the Motorcycle Accident, I-10 and bloody gloves are just random shots off of Google images.)  Everything else, including the pictures at the top, and of course the picture below, are real.
But, the best part of this story is this:  Seven months later, our little "save" was born: